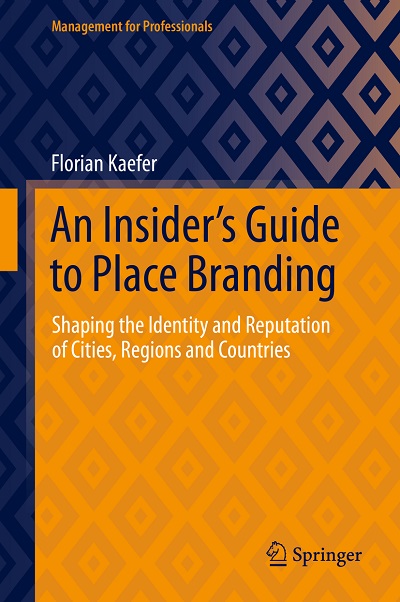 How can we shape the identity and reputation of cities, regions and countries?
An Insider's Guide to Place Branding (Springer International Publishing 2021) sets out to answer this question.
This professional guidebook highlights brand development and management for cities, regions, countries, and destinations. It presents a unique collection of expert interviews, combined with latest research insights and thoughts on the most relevant topics and trends linked to the reputation, brand development and management of cities, regions, countries and destinations.
This is a book which offers inspiring personal stories and reflections, and at the same time serves as essential know how guide for busy place managers, marketers and developers who care about the reputation and well-being of their community.
The professional Handbook combines insights from the TPBO panel with our expert interviews.
---
Preview or order the book here
---
Testimonials
"This book provides an excellent, wide-ranging overview of the multiple facets of place branding. The range of different perspectives is extremely impressive."
Keith Dinnie, author of Nation Branding – Concepts, Issues, Practice
---
"Place branding is an impossible mission. If you live and work in a messy democracy, people will rightly stand up against efforts and techniques that work in the corporate world. People aren't toothpaste and sports cars and they don't want to feel 'packaged up' by a marketer. We have to be careful and curious, seductive, and honest about what works and doesn't work. This collection is a way for place branding and economic development professionals to share ideas, successes and failures, and a broader understanding of the immense value of a powerful and consistent place brand. It's also a really fun read!"
Todd Babiak, CEO of Brand Tasmania
---
"The concept of taking deliberate steps to shape the identity of your place is still a relatively new idea – and as such, there can be a lot of ambiguity in terminology and in the purpose and reason behind place branding. To counter this, Kaefer synthesises the perspectives of numerous experts from around the world to give a broad stroke perspective of place branding in the 2020s, before collating an anthology of interviews with place branding experts from around the world to offer a deep-dive into key topics and insights outlined earlier. A great reference book to have at your side to dip in to when you're looking for more information on a particular topic or challenge."
---
"This book is an impressive compendium of 'who is who' in place branding."
Robert Govers, author of Imaginative Communities
---
"If you only read one book on place branding, let Kaefer's 'An Insider's Guide to Place Branding' be that book. This is without doubt the best long-read on the topic. The first part of the book is written with ease, clarity and structure. The second part of the book offers the thoughts and reflections of 47 of the world's leading experts on the topic. Need I say more?"
Martin Boisen, Independent advisor at For the Love of Place, Vice chairman of The International Place Branding Association, Lecturer in Human Geography & Planning at the University of Groningen
---
"Florian Kaefer is the soul of The Place Brand Observer, TPBO's contributions to the field are unparalleled, and this book reflects these credentials. Combining chapters by the author with depth interviews featuring notable persons in the field – Govers, Warnaby, Florek, Zenker, and many others – this book offers insights and wisdom that make it a must resource for practitioners. I highly recommend it."
Nicolas Papadopoulos, Distinguished Research Professor of Marketing and International Business, Carleton University, Canada
---
"The world has changed and place brands now mean more than ever. We need new signals of place quality as well as new understanding of what place attractiveness is. Florian carefully manages expert opinions and gives us a broad picture. The mosaic of cases, interviews and thoughts is of great help for those who are in charge of city image, tourism development and place promotion. But additionally the book gives the foundation for academics – to build and test our theories at this new level."
Irina Shafranskaya, Associate Professor at HSE – University, Russia
---
"After the many definitions of place branding available in many texts and by many authors, it seems that Place branding as Florian notes boils down to one powerful and simple yet complicated question: Why Choose Here? […] If there is anything you will get from this book, it is to get this definition imprinted in your head. Let it be the Genesis of every strategy you work on. Print it on A2 and paste it on your walls."
Castro Ambiyo, PlaceBrandAfrica.com