Yellow Railroad is an international destination consultancy based in Edinburgh, Scotland. "We help destinations unearth their competitive mojo, so they can stand out on the world stage. In business jargon, they call it place branding and destination management planning; we call it positioning places for people and profit. We bring worldwide expertise to local places."
Which topics are you most passionate about?
Building sustainable destinations. Destinations and communities deserve to prosper by developing a visitor economy that is economically, socially, culturally, and environmentally responsible, and thereby truly sustainable. Involving residents as participants in the development of a competitive identity to underpin all communications and behaviour by their destination is the starting point.
And, as global tourism growth threatens peak period congestion and 'overtourism' in honeypots, destination managers need to wake up and smell the coffee and invest in robust, long-term destination management planning. Otherwise, we risk killing the goose that lays the golden egg for many, and particularly developing, economies.
---
Five hashtags which best describe Yellow Railroad:
#placebranding #destinationmanagementplanning #visitoreconomy #crisisrecovery #smallcompany-bigexpertise
---
Who is leading the company?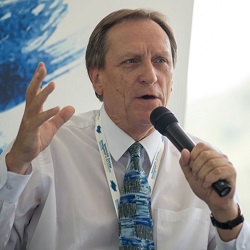 Tom Buncle – Managing Director
Tom has almost 40 years' experience in place branding, tourism marketing, and destination management planning on four continents (UK/Europe, North America & Caribbean, Asia, Africa & Middle East). Prior to establishing Yellow Railroad in 2000, Tom was Chief Executive of Visit Scotland, where he had previously been International Marketing Director. He also ran Visit Britain operations in Southeast Asia, Norway and California.
Projects: Tom has worked on place branding, destination marketing and management planning projects in: Namibia, Cameroon, Kenya, Mozambique, Gabon, Rwanda, Southern Africa; Dominica, Barbados, Eastern Caribbean States; Jordan, Kuwait, Tunisia; Bosnia, Serbia, Belarus, Norway, Lithuania, Georgia, Iceland, France, Ireland, Northern Ireland, England, Scotland, and Wales. He has also worked on crisis recovery projects for Britain after 9/11, England after Foot & Mouth Disease, and is a UNWTO trainer in crisis communications.
Writing and Lecturing: Tom is an Honorary Professor at Edinburgh's Heriot Watt University. He lectures at universities and business schools in the UK and Europe, and is a regular speaker at international conferences on global travel trends, place branding, and destination marketing. He authored the definitive Handbook on Tourism Destination Branding, published in 2009 by the United Nations World Tourism Organization (UNWTO) and European Travel Commission (ETC).
Non-Executive Positions: Tom has served on several boards as a non-executive director in the fields of tourism, branding, marketing, culture and the natural environment, including: the Edinburgh International Festival Council, the Cairngorm Partnership (Scotland's second national park) and Scotland the Brand.
He was an adviser to the UK Department of Culture, Media & Sport (DCMS) on the European Capital of Culture 2008 award, and is a former member of Contact Singapore's European Panel (formerly the guardian and promoter of Singapore's international image).
He is a Fellow of both the UK Tourism Society and the UK Tourism Management Institute, a National Committee member of the UK Tourism Consultants' Network, Europe's largest professional body for tourism consultants, a member of the United Nations World Tourism Organization (UNWTO) Panel of Experts, a member of The Place Brand Observer's international virtual research panel, a member of the Experts' Committee of the World Tourism Cities Forum (China), and a member of the Sustainable Tourism Certification Alliance (Africa).
"Beyond the Day Job": Tom started his tourism career as a tour guide in Europe, after obtaining a degree in Law and Sociology followed by an MA in Criminology – an interest he pursued as a non-executive member of the Scottish Prison Service Risk Monitoring and Audit Committee for 10 years. Tom's passions are:  windsurfing, sailing, scuba-diving, and hill walking.
Tom's motto: "Life is not a dress-rehearsal"
---
Advice you'd like to share?
Pretend logos and straplines had never been invented. Seek the truth that underpins your place and run it through everything you do – from marketing communications and product development to behaviour.
Tell your story creatively, imaginatively and with style. Be ruthlessly focused and don't try to be all things to all people. Remember, a place brand is for life, not just this year's marketing campaign; you can tweak the way you present yourself, but you can't undo centuries of culture, values, heritage, people and landscape that make your destination what it is. That would be monumentally presumptuous.
Make sure residents are involved from the start in unearthing your brand's essence; otherwise they won't believe or buy into it. Don't forget a place brand is bigger than one organisation, but it needs legs. So, recruit enthusiasts, who can help embed the brand far beyond your own organisation.
Finally, remember David Ogilvie's advice "the consumer is not a fool; she is your wife" (or partner, lover, friend, mother, father, brother, sister etc.).
---
Where can we learn more about your work? How to get in touch?

Visit our website, yellowrailroad.com, or send Tom an email to start a conversation.