The Burghard Group is dedicated to changing the current paradigm of economic development from a focus on job growth to a focus on helping residents more easily achieve their dreams.
Based in Loveland, Ohio USA
Which topics linked to the branding and reputation of places are you particularly passionate about?
Exploring and teaching the principle that Place Branding = Place Making + Place Marketing.
Educating US economic development professionals and elected officials on what the American Dream is and how to use it for making principle based decisions.
Personal branding to help economic development professionals have a greater impact.
Place strategy design and deployment processes.
---
Five hashtags which best describe you:
#datafocused #practical #resultsdriven #trustowrthy #candid
---
Which services do you offer?
We provide strategic support to help economic development organizations get ready to contract for place branding. This service dramatically improves the probability for success by 1) ensuring a solid understanding of resource requirements and 2) creation and deployment of sound, sustainable strategic development plans.
We provide free education on place branding through our www.strengtheningbrandamerica.com blog. The content focus is decidedly U.S., but the content is universally applicable.
---
Who have you recently worked with?
We work with both private companies (e.g. cancer care provider, 3D printer) and economic development organizations at the local, regional and state level.
---
Who is leading The Burghard Group?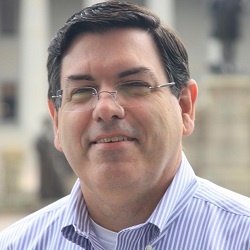 Ed Burghard is a retired Procter & Gamble marketing expert and leading authority on branding. He is the creator of the Strengthening Brand America project, a community of practice that provides knowledge and tools to help economic development professionals manage the place branding process.
Ed is a speaker at economic development events on the topic of the American Dream. He has been published in Site Selection Magazine, Area Development Magazine, LEADERS Magazine, Business Expansion Journal, the International Place Branding Yearbook 2010 and 2011, and is a contributor to The Place Brand Observer.
---
Your advice to economic development professionals?
A brand is a promise.  The brand promise sets an expectation of an experience.  To be effective, the brand promise must be authentic, relevant and competitive.  Most communities (places) fail because they are fundamentally not competitive.  My advice to these places is to redirect your branding budget to actions that will make your location uniquely competitive (typically place making choices).  Don't waste money on branding until that task is complete.  Doing otherwise is simply putting lipstick on a pig.
If you are interested in place branding, but unwilling to revise your place strategy, you will fail.  Branding is all about strategy.  Marketing and selling your place are simply activities of the branding process.
Year over year job growth is a poor measure foe economic development.  Resident satisfaction in their perceived ability to achieve their dream is a much better measure of success.  Resident satisfaction can be measured by market research.
---
Connect with Ed Burghard of the Burghard Group on Facebook or Twitter.