Hoyne is a strategically led creative agency and the Australian authority and a global voice in Place VisioningTM, property branding and marketing.
What characterises Hoyne?
At Hoyne, we're passionate about place, we're about making a positive impact and creating a legacy. Having been in the property industry for over 28 years, we know what it takes to transform place into destination and in the process create long-term social and economic success.
We work with major Australian and international asset owners, developers and local councils to create recognisable landmarks and destinations across Australia and Southeast Asia. This ranges from residential towers and masterplanned communities to commercial developments, new and revitalised mixed-use precincts, neighbourhoods, suburbs and even cities.
What we do delivers the difference, and we do it from the ground up, beginning with an approach we call Place Visioning™ – a 'blueprint' that guides and shapes the development of a place by uncovering its character, identifying its anchors and establishing the 'magnets' (amenity, public places, food & beverage and retail) that will attract people to precinct. Once agreed, we bring it to life through best-in-class branding and marketing. Every place has a story to tell and we dig deep to define it. Our approach builds brand strategies that provide clear, recognisable identities to help establish a place's market reputation.
A passion for place has also led Hoyne to publish The Place Economy, a series of resource books that present thought-leadership on best practice placemaking from around the world and demonstrate the categorical link between good placemaking and significantly higher profits (both economic and social). The Place Economy Volumes 1 & 2 show that investment in better places leads to greater profit for developers and investors, results in economies that perform better and nurtures communities that are happier and healthier.
---
Who is leading Hoyne?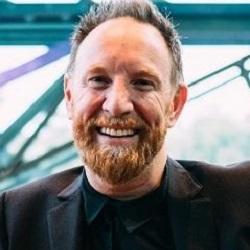 Hoyne was founded in 1991 by Principal Andrew Hoyne. Since then, the business has grown to a team of 70 people including five partners who bring significant specialist expertise and leadership; Dan Johnson, Group Director, Creative and Strategy; Jennifer Hume, General Manager; Cate Boughton, Group Director, Account Service and Bryan St James, Chief Operating Officer.
We have a diversity of skills in-house made up of strategists, creatives, CGI artists, copywriters, digital and UI-interface designers, account managers, marketers and production. Our wealth of insights, vision and experience are why clients consult with us, first and foremost.
Hoyne has offices in Sydney, Melbourne and Brisbane.
---
Your specialties?
Place VisioningTM, property branding and marketing.
---
You'd like us to introduce you to the Hoyne leadership team? Get in touch!
---
Hoyne is part of the TPBO network of partner consultancies. Interested in joining? Contact us here.