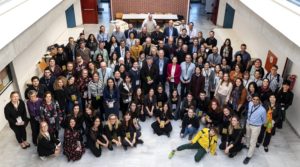 Are you a place branding professional looking for the latest insights and trends in public diplomacy, economic development, destination management, and city marketing? Look no further than the Place Brand Observer's conferences and events.
As more and more cities, regions, destinations, and countries seek to nurture and maintain their place brand and reputation, the Place Brand Observer offers a comprehensive overview of upcoming conferences and events. Our conferences attract top professionals and thought leaders, providing a platform for exchange of knowledge and best practices.
Stay ahead of the curve with our upcoming conferences, covering topics such as place branding for economic development, destination management for sustainable tourism, and public diplomacy for international relations. Previous conferences have explored themes like cultural heritage, digitalization, and stakeholder engagement.
Join us and connect with fellow place branding professionals, learn from experts in the field, and gain insights to enhance your work. Don't miss out on the latest developments in place branding and reputation management. Visit our website to register for upcoming conferences and view highlights from past events.
---
City Nation Place Americas
New Orleans: June 7-8, 2023
City Nation Place Americas breaks down the silos between tourism, economic development, and city management to foster a dialogue on how places can work better together to attract talent, tourism, and investment and improve the quality of life for your community.
---
7th Annual Conference of the International Place Branding Association
Helsingborg, Sweden: October 18-20, 2023
Organized by the Department of Strategic Communication, Lund University, Helsingborg, Sweden, in collaboration with Department of Service Studies, Lund University, Halmstad University, and Kristianstad University. Helsingborg is located by the sea in the Greater Copenhagen Region, Sweden.
Conference theme: Place branding in times of crisis and uncertainty
---
City Nation Place Global Forum

London, UK: 8th & 9th November 2023
Join the 9th City Nation Place Global conference to network and learn with the leadership teams of country branding teams, regional and city marketing boards, destination marketing organisations, investment promotion agencies, and economic development boards from around the world.
---
Conference previews and reflections
Want to know what place branding conferences are like? Below our latest conference previews and reflections:
---
You are organizing an event for place brand professionals and are looking for speakers? We can help – have a look at our speaker profiles, or contact us for a recommendation.