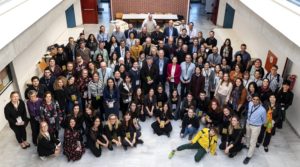 Are you a place branding professional looking for networking opportunities? Here our overview of high level industry conferences and events.
As more and more cities, regions, destinations, and countries seek to nurture and maintain their place brand and reputation.
---
7th Annual Conference of the International Place Branding Association
Helsingborg, Sweden: October 18-20, 2023
Organized by the Department of Strategic Communication, Lund University, Helsingborg, Sweden, in collaboration with Department of Service Studies, Lund University, Halmstad University, and Kristianstad University. Helsingborg is located by the sea in the Greater Copenhagen Region, Sweden.
Conference theme: Place branding in times of crisis and uncertainty
---
City Nation Place Global Forum

London, UK: 8th & 9th November 2023
Join the 9th City Nation Place Global conference to network and learn with the leadership teams of country branding teams, regional and city marketing boards, destination marketing organisations, investment promotion agencies, and economic development boards from around the world.
---
Global Soft Power Summit 2024

London, UK: 27 – 28 February 2024
Join the Brand Finance team at the Global Soft Power Summit 2024. Delve into the significance of soft power in global diplomacy. This time, the focus is on the impact of innovation in driving investment, trade, talent, and tourism. The event spans two days, featuring specialized workshops on February 28th (in-person only) and a full-day conference on February 29th at the Queen Elizabeth II Centre in London.
---
Conference Previews and Reflections
Want to know what place branding conferences are like? Below our latest conference previews and reflections:
---
You are organizing an event for place brand professionals and are looking for speakers? We can help – have a look at our speaker profiles, or contact us for a recommendation.