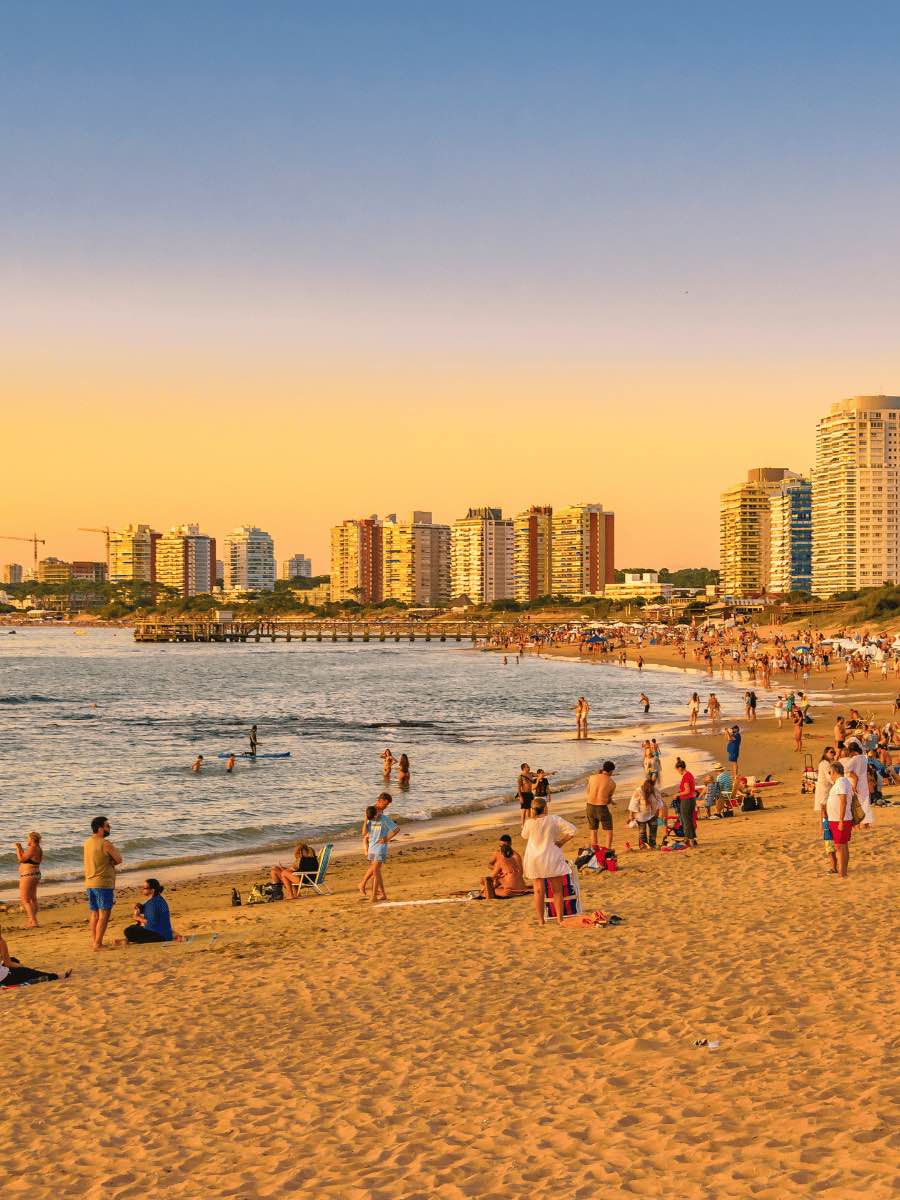 Spotlight:
Uruguay
Dive into the heart of Uruguay with our exclusive showcase that offers a vivid glimpse into a nation blossoming into a hub for filmmakers and tech aficionados alike.

Through discussions with professionals such as Larissa Perdomo and Pepi Gonçalvez, we bring you a closer look at the nation's focused branding strategies and the opportunities waiting to be seized.

Learn about the promising IT sector, growing film industry, and what makes Uruguay a preferred choice in South America for investors and visitors.

Whether you're thinking about visiting the scenic spots of José Ignacio or investing in the burgeoning tech scene, this showcase offers straightforward insights to help you make informed decisions.
Uruguay's Country Performance and Reputation
When thinking about Uruguay, what comes to your mind? A question we asked on our Facebook page. Here some of the answers:

"Uruguay is an amazing country. It has very nice places like José Ignacio where you can rest and enjoy the beauty and gastronomy of the place. Colonia is a beautiful and very interesting city that I loved, and I totally recommend it. Uruguay is a very safe country, quiet and with lovely people."

"I didn't know anything about Uruguay before visiting the country for the first time 10 years ago, and after a couple of days there I loved it because of its people and healthy/friendly lifestyle."

"I have already visited twice, and I would go other times! Uruguay offers the chilling vibe from South American culture, it's great. … Although it's a small market, I know the country is making big efforts to enhance its image abroad, so I would consider it."

"Place image to me: beautiful, warm and relaxed country side, plus bright metropolis, plus extended seaside…"

"Gaucho culture, beautiful landscapes, and tranquillity."

Judging by those observations, Uruguay seems to enjoy a strong, positive reputation - especially as destination. But what about its potential to attract investors and talent? How does this comparatively small country -  a dwarf in comparison with neighboring countries Brazil and Argentina - attract and retain talent, and which areas does it consider of particular strategic importance? To get answers to those and similar questions, we toured around Uruguay in January 2019. The questions we asked anyone we met along the way - taxi driver(s), barber, locals over a beer, investors, film producers, directors of government agencies:
Why visit Uruguay?
Why live, work or invest in Uruguay?
How does Uruguay build and promote its country brand internationally?
Uruguay: how environmentally friendly, sustainable?
Uruguay's Country Performance
How do international rankings and indices assess Uruguay's performance as economy, democracy and place to live in?
Uruguay is a well-known destination in South America, especially loved by Argentinian and Brazilian visitors during summer months, but also increasingly popular among Europeans. Among Uruguay's highlights as destination are José Ignacio and Cabo Polonio, also the town of Colonia del Sacramento with its historical charm.

Apart from cultural and beach experiences, the country's many vineyards – anything from the glamorous Bodega Garzón to small, family-run enterprises – invite you to enjoy Uruguay's wines, perhaps together with an infamous asado (Uruguayans, like most South Americans, love their meat).

And of course Montevideo, the capital, where we recommend to take a stroll (or run) along the Rambla (coastal boulevard), to visit Mercado Ferrando, and to spend some time at Escaramuza Libros. While there, you'll also want to see Plaza Independencia, the heart of old town, from where the pedestrianised Peatonal Sarandí will lead you to the Cathedral and the Cabildo – former seat of government and now a museum of city history. The popular Mercado del Puerto is just a stone's throw from here.

Getting in and out of Uruguay is easy – by air through the modern airport, or by ferry to Buenos Aires (fast ferry service takes around 2 hours 15 minutes).

Uruguay might be a little more expensive as destination but feels more relaxed and more secure compared to neighbouring Brazil or Argentina.


Why Work and Invest in Uruguay?
As one of the most advanced and politically stable countries in the region, Uruguay is also a popular place for a growing number of internationals to live and invest in.

During our visit we participated in two networking events:


José Ignacio film festival where we talked to film producers and creative industry executives (see interview with Pepi Goncalvez)
PuntaTech Meetup (more in our interview with Pablo Brenner) in the resort city of Punta del Este, where we mingled with IT entrepreneurs and investors
Our impression: there is growing interest among foreign investors to consider Uruguay. On the one hand because of its political and economic stability and high livability scores, and on the other hand because of its generous tax incentives and discounts. We also repeatedly heard references of Uruguay being a friendly country, open to foreigners (probably because most Uruguayans are second or third generation immigrants themselves).
Behind the Scenes of Building (Brand) Uruguay
Larissa Perdomo on Uruguay's Country Branding Strategy

Director of Country Brand at Uruguay XXI. Larissa Perdomo in this interview illustrates how Uruguay approaches country branding and how perceptions about the Latin American nation have changed over time.
Pepi Gonçalvez: Uruguay a good place for film makers?

Pepi is the CEO of Motor Films, co-founder of Este Audiovisual and also co-founder of the annual International Jose Ignacio Film Festival. In this interview she tells us why Uruguay is a good place for film makers and feature film productions.
Martín Papich: How the Government incentivizes film productions in Uruguay

What does the Uruguayan government do to attract feature film productions to the country? We asked Martín Papich, Director of the Uruguayan Film and Audiovisual Institute (ICAU). Find his answers here.
Jorge Silveira Noble: Uruguay for tech startups

Dr Jorge Silveira Noble is managing director of LATU, Uruguay's highest authority for quality assurance and measurements and also active in supporting start-ups especially in the tech sector. In the interview he shares some of the success stories that have emerged from the incubator, and gives tips where to look for help and funding.
Pablo Brenner: How PuntaTech has become the meeting place for IT in Uruguay

Serial investor and co-founder of Puntatech Meetup, Pablo Brenner has been involved in Uruguay's start-up scene for many years. In the interview he tells us about his experience as entrepreneur and angel investor, as well as the trends and challenges affecting Uruguay as start-up nation.
Martín Larre: Uruguay a good place for investors?

Is Uruguay a good place for investors? We caught up with Martín Larre of Sinergia UY. A serial entrepreneur with roots in Argentina, in this interview he tells us why he chose Montevideo over Buenos Aires and what makes Uruguay special for him, as place to live and work.
Benjamín Liberoff: How Uruguay has evolved as tourist destination

Uruguay's Vice Minister of Tourism reflects on how tourism has grown in the country and what sets it apart within the South America region.
Giselle Della Mea: Uruguay and sustainability

A leading changemaker focused on circular economy and sustainability, Giselle Della Mea shares her thoughts on Uruguay's environmental performance: its strengths and challenges.
Curious about living, working or investing in Uruguay?
Visit UruguayNatural.com for all you need to know about making the country your story of success.

Our thanks to Uruguay XXI for for facilitating our country visit, and sharing resources and information to support our overview of Uruguay as location to live and work.

Interested in showcasing your region, country or destination? Contact us!