Place branding researchers know Ares Kalandides as founder of the International Place Branding conference series and managing director of INPOLIS economic development consultants in Berlin. In this interview, Ares tells us how it all started and his plans for the newly created place branding section at the Institute of Place Management at Manchester Metropolitan University in the UK.
Learn about:
The purpose of place branding

, from an urban planning perspective;
The conceptual link between place development, place management and place branding;
How place branding can serve as an element of strategic place development;
How to measure the success of place branding projects;
How Berlin earned its brand image as 'poor but sexy'.
---
Ares, when and where did you first come across place branding?
I have been working as a consultant to the organization responsible for Place Branding in Berlin (Berlin Partners) since 1996. Although at the time it was called City Marketing, what we were doing was managing Berlin's reputation – so Place Branding. At that time, the job consisted in supporting urban development and economic transition of the newly reunited city.
From an urban planning perspective, what is place branding all about?
For me, Place Branding is about creating positive associations with a place's name and sustaining those over time. Every planning project (and decision) influences the symbolic dimensions of a place, especially the way it is perceived. We can use place branding to support urban planning activities – I think it's problematic when we do the reverse.
Is there a conceptual difference between place branding and strategic place development?
I can see Place Branding as an element of strategic place development and I think it has its legitimacy there. But strategic place development has several other dimensions including (but not limited to) physical, economic and cultural planning, creation of institutional capacity, redistributive policies and welfare. In that sense, Place Branding is always political.
Why did you start the International Place Branding Conference series in 2008?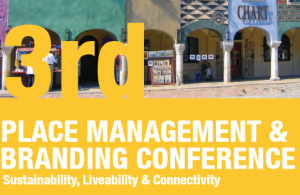 In 2008 I realized that there was a huge gap between practitioners and academics in Place Branding.
Also, whereas some academics (mostly coming from business studies) used business concepts and applied them to places, others from the spatial sciences (geography, planning etc) were extremely critical of the concept and often rejected it all together.
What I wanted to do is bridge all these differences and especially repoliticize the discussion around Place Branding.
How has the place branding field (research & practice) changed since then?
The discussion that we (and many others) started has been very fertile. We have several different strands of research today, from very different point of views, some of them at a very high level. The co-conceptualisation of place development, place management and place branding is particularly fruitful.
Why did you found INPOLIS, and which urban and regional development projects have you been working on recently?
I founded INPOLIS in 2001 for the very simple reason that Berlin experienced a planning and building boom. We started by offering mostly communication services for places (including Place Branding), but have now developed to a full-service consultancy that offers all the different aspects of urban development services.
At the moment, we are preparing a Sectoral Urban Development Plan "Science and Research" for the city of Rostock. Part of the project is about physical planning, but a substantial part of it is about creating and managing Rostock's reputation as a city of science.
What role does the branding and reputation of places play at the Institute of Place Management?
At the IPM we see place branding as a possible tool for the development of places. We have dedicated a Special Interest Group (SIG) to it, where we connect experts and offer certain resources (e.g. literature, news and training) to a global audience. We hope to facilitate a dialogue between professionals in place development, whether they are actively involved in place branding or not.
Which journals do you follow for insights, ideas or advice on place branding?
I find that the Journal of Place Management and Development is probably the most relevant to me, as it does not separate place branding from other tools of place development. I am of course biased as it is the official journal of the IPM.
Your most memorable project or professional experience so far?
The only project exclusively about Place Branding was an international positioning strategy for the city of Bogotá in Colombia. Today I am increasingly convinced that place branding cannot (and should not) function alone, but needs to be embedded in a much broader political process of place development.
How do you measure the success/effectiveness of place branding as tool of urban or regional place development?
The problem as usual is to establish causality. You can register economic growth or a positive urban place development (how you measure those two is another issue) – and you have ways of measuring the improvement of a place brand, but it is practically impossible to show links between the two.
When and why did you start your popular blog Places? What is it about?
I started Places in 2011 originally to talk about place branding. I soon realized that my focus of interest was in places in a much broader sense. We changed its name and its focus to reflect our changing views.
How did Berlin earn its brand/reputation as "poor but sexy"?
This is actually a funny story, because "poor but sexy" is a real quote from a speech by Berlin's former mayor, Klaus Wowereit. It was never meant as a branding expression, bur rather as an excuse ("see, we may be poor, but at least we're sexy"). As it reflected exactly what many people believed, unwillingly it became one of the most successful claims for Berlin.
Does place branding research and practice play a role in Germany?
Even though there are excellent researchers in Germany dedicated to place branding, it has never managed to establish itself as a field. There is a conceptual mess between campaigns, promotion, marketing and place branding.
Thank you, Ares.
Featured image by Fotis Vrotsis
---
About Ares Kalandides
Ares is an urban planner specialized in strategic place development: policy making and network management. He is the founder and CEO of INPOLIS, which offers integrated services in the fields of urban and regional development with a focus on the economy.
Ares is Adjunct Professor at New York University in Berlin, and director of the Institute of Place Management at Manchester Metropolitan University in the UK, where he sits on the editorial board of the Institute's Journal of Place Management and Development.
From July 2010 – January 2015, Ares was President of the now dissolved Association for Place Branding and Public Diplomacy.
---
Enjoyed our interview with Ares Kalandides on place branding, economic development and "poor but sexy" Berlin? Spread the word!