In this guest post, place branding and reputation expert Juan Carlos Belloso of Future Places shares his advice on how to create and manage successful place brand partnerships, why they are so important and the challenges involved in building them.
Why We Need to Engage and Coordinate Stakeholders
One of the characteristics that illustrate the complexity of building and managing a place brand, as opposed to corporate or product/service brands, is the large number and diversity of stakeholders involved or affected by the brand building process.
Place branding as a long-term endeavour needs the commitment and involvement of all key place stakeholders (citizens, politicians, governmental organizations and agencies, private sector organizations and businesses, etc.). Each of them have their own and sometimes opposed goals and interests. For a place brand to be effective, it needs to represent and integrate all the key place stakeholders and be consistent and coherent over time.
Another challenge when building and managing the place brand is the need to overcome the usually highly politicised nature of place branding, be it at a municipal, regional or national level.
Some kind of coordinating body or organization is needed to make sure that the place branding endeavour is consistent over time, and that it caters to all different key place stakeholders.
Although the ideal state is the one where all the relevant stakeholders are involved in place brand strategy development and management, a more realistic aspiration for most places is to achieve reasonable or good levels of integration or program-specific inclusiveness in their place branding activities.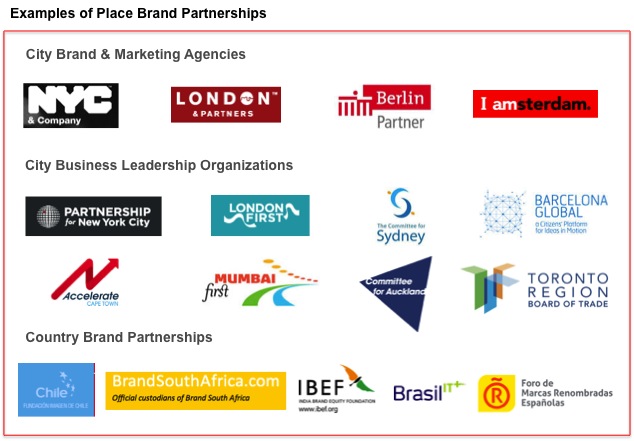 Place Brand Partnerships

Most place brand partnerships are conceived and created as public-private or purely private organizations, whose primary objectives are to promote, manage and protect the brand over time. Their key role is to coordinate and align all the place brand and promotion efforts from the different stakeholders that form the partnership.
Place brand partnerships vary considerably in terms of mission, objectives, business model, composition and organization, ranging from traditional promotion agencies (for instance, Destination Management Organizations – DMOs) to Place Brand Agencies and Business Leadership Organizations.
A key benefit of place brand partnerships is that they help overcome the constraints that usually limit place authorities, since they have a longer-term approach and view of the brand. They go beyond short-term electoral cycles and have a greater degree of political and financial independence, as they usually don't depend on taxpayer's money alone, but also on the contributions from the partnership members.
Some successful examples of place brand partnerships at city level include NYC & Company, London & Partners, Berlin Partner, or Amsterdam Partners, as well as business leadership organizations such as Partnership for New York City, London First, The Committee for Sydney, Toronto Region Board of Trade, Accelerate Cape Town, Mumbai First, or Barcelona Global, just to mention a few.
Success Factors for Effective Place Brand Partnerships
Based on my own practical experience when founding the Barcelona Global Association (primarily focussed on positioning Barcelona as one of the best cities in the world for talent and business) and as advisor to other places and place brand partnerships of different types and sizes, I have identified the following success factors for effective place brand partnerships:
Identify and engage the right people
This is the key starting point for any place brand partnership. You need to identify the right stakeholders and the specific people within the place that will be able to boost the partnership and bring the rest of the key stakeholders to the partnership.
They have to have a clear reason for that, either because they are firmly convinced of the need for this partnership to be created and/or because they understand the clear and tangible benefit for the place and for their own objectives in creating the partnership.
Shared vision and goals
The brand partners need to agree on a shared vision and goals for the place and also for the partnership. This vision needs to be of a higher order than the individual visions and objectives of each of the partners involved. And they all should be aligned, engaged and committed to the shared vision and goals.
Inclusiveness and representativeness
The partnership has to include as many key place stakeholders as possible and be representative of all of them, including the citizens. This obviously can vary depending on the specific scope and objectives of the partnership, but this principle of inclusiveness and representativeness is key for the success of the partnership.
Place brand partnership members must also acknowledge and accept each other as equals, independent of their size, economic or political power – including individual members – and the partnership must not be dominated by economic or political 'superpowers', as this would frustrate and discourage other members and, eventually destroy the partnership.
Shared responsibility
The partnership members need to commit and take share responsibility for the vision and goals set for the partnership, in relation to the future of their place and to the partnership. This means taking joint responsibility in deciding and implementing the right set of initiatives and actions to be developed by the partnership, the individual members or other external organizations on behalf of the partnership.
Trust
Another key success factor is trust among the members of the place brand partnership. This means that objectives and expectations from every one must be clear and shared and that there should not be 'hidden agendas' that could eventually destroy trust and the partnership.
Effective and tangible actions
The partnership must look to develop and implement effective 'on-brand' initiatives that can have and prove a tangible effect and have a major impact on the place, in line with the place vision and the partnership's mission and goals.
Partnership members have to see tangible results and a clear benefit of supporting the partnership, and this is also fundamental for the image of the partnership among all place stakeholders.
Measurement
Finally, for a place brand partnership to be successful, there needs to be a willingness to evaluate the impact and effectiveness of the different initiatives and actions developed and implemented by the partnership, as a way to assess, understand, and if need be, to improve its various initiatives.
Adequate measurement will also provide the necessary data and information for the partnership members to see if their contribution to the partnership (both in terms of time and money) is being effective and used properly.
Those are some of the key principles and success factors for effective place brand partnerships. Naturally, each partnership is unique in its characteristics, needs and objectives, which has to be taken into account, together with the specific culture and practices of the place.
What is your experience with place brand partnerships? Comments welcome!
---
Juan Carlos Belloso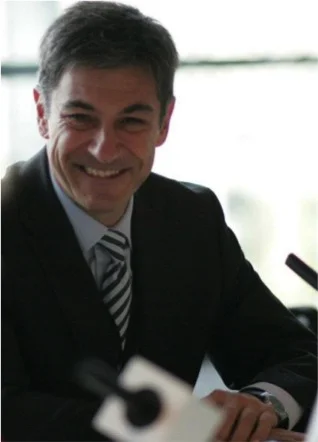 is the director of Future Places consultancy and a renowned international expert in corporate and place branding, marketing and internationalization, based in Barcelona. He has for many years advised the City Council of Barcelona and other city organizations and institutions in the areas of strategy, development, image and promotion.
Read our interview with Juan Carlos Belloso and his case study on Barcelona city branding.
More about Juan Carlos Belloso on his website and LinkedIn profile.
---
Did you enjoy this article on place brand partnerships by Juan Carlos Belloso? Please share!