Rebranding Barcelona as City for Business, Talent and Innovation: City Branding Case Study
What is it with Barcelona in Catalonia (Spain) that people's eyes sparkle as soon as you mention its name? Where does this magic come from, and was it always like this? Far from it. As city branding expert Juan Carlos Belloso explains in this case study, Barcelona's admired brand today is the result of many years of hard work and determination. 
This reflection on Barcelona's city brand development is based on the extensive professional experience of Juan Carlos Belloso, managing director at FuturePlaces. Juan Carlos assisted the Barcelona'92 Olympic Games Organization and helped develop the Strategic Metropolitan Plan and the design of the new Barcelona Brand strategy. He is also a founding member and currently on the board of the Barcelona Global Association.
Learn about:
How the 1992 Olympic Games changed everything;
Why being known for and admired as a tourist destination is not always desirable for a city;
The strategy, action and tools of Barcelona's city branding;
How Barcelona involved the private sector in its branding efforts;
How long it takes for a city branding initiative to bear fruits;
Impacts of Barcelona's city branding strategy;
Future challenges for Brand Barcelona.
---
Background
Barcelona, with just over 1.6 million inhabitants (the entire Greater Metropolitan Area totals 3.8 million), is Spain's second largest city in terms of population and the capital city of the region of Catalonia. It's the main economic engine of Spain and accounts for more than 25% of all Spanish exports. It has 101.4 Km2 (4.58 Km of beaches) and is a city with more than 2,000 years of history and rich cultural heritage.
Over the last 20 years, Barcelona has successfully positioned itself among the top cities around the world. It is widely associated with creativity, culture, sport, gastronomy and high quality of life. Barcelona has also become one of the main tourist destinations in Europe, with more and 7.5 million tourists in 2013, and is a popular place for corporate, scientific, cultural and sporting events and congresses.
Today, Barcelona is a modern, advanced, cosmopolitan, open, creative and inspiring city boasting a high quality of life.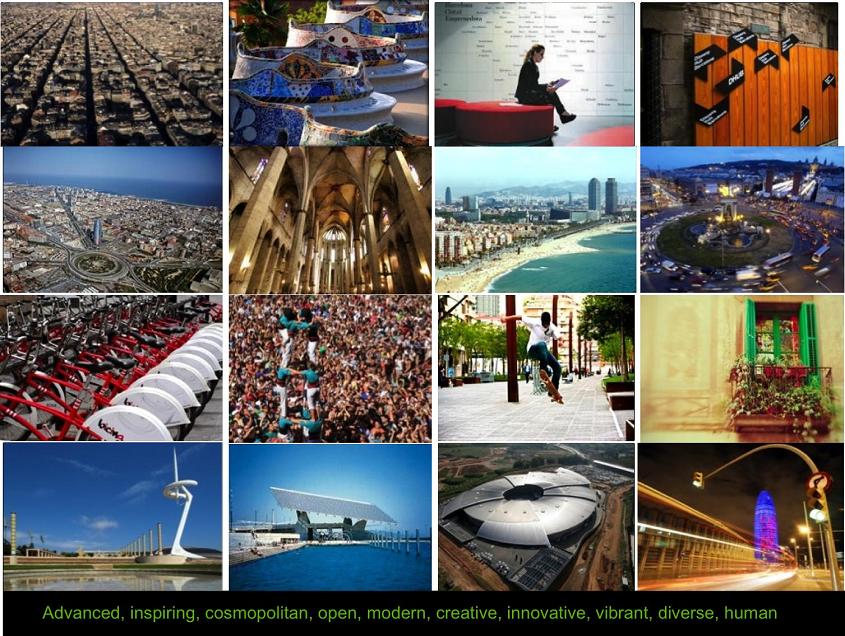 In order to understand how really the Barcelona brand has achieved this high level of awareness, recognition and esteem, we need to go back to the 80's when Barcelona needed to completely transform itself after a 'grey' period of 40 years of dictatorship in Spain. At that time, city and regional leaders, together with the civil society, came together to create and implement a future vision for the city.