In the seventh episode of the Place Brand Leaders podcast, I introduce you to two countries which have inspired me over the years and whose country branding work is as successful as I find it imaginative. They are indeed quite similar in some ways.
For starters, both New Zealand and Costa Rica are known for their beautiful natural environments and as such are popular tourist destinations, especially among travellers interested in ecotourism.
And, both of them have established themselves internationally as strong advocates for good care of our planet, giving them considerable soft power in this area, despite the comparatively small size of their countries and the limited hard power. Costa Rica doesn't even have a military, as far as I know.
What I find especially remarkable – from a country branding point of view – is how both countries have managed to establish a brand promise around values of sustainability, which can be applied to many industries. In the case of New Zealand, there are massive economic benefits for its food exporting, not just apples and kiwifruit, but also dairy produce and meat, among so many other things now.
This doesn't mean that Costa Rica or NZ are free of social struggle or environmental issues. Of course those are there as well and I remember from my time in NZ that methane from the many cows was a concern, as well as freshwater issues due to effluent flowing into it. Likewise, Costa Rica has faced issues with palm plantations and tourists threatening wildlife well-being. But these are things which are being addressed, and it is good that commentators keep a close eye on it.
---
---
Stakeholders key to country branding success
The real achievement – and a key to success in place brand management – is to bring the most relevant stakeholders together around a key theme, which is then not just used for logo graphic design or ad campaigns, but also informs policy making and how a country as a whole shows itself to the world – and to potential visitors, investors and skilled workers.
Both NZ and Costa Rica have done this very well and I invite you to find out more about the respective process in our interviews with Daniel Valverde, the Director of Costa Rica's country branding team, and Rebecca Smith, Director of the New Zealand Story.
My favorite quote from the interview with Daniel is this:
It is important to emphasize that whether it's placemaking, place marketing, or place branding, working to achieve sustainable development must be done within a strategy that includes ties with politicians, businesses, and citizen stakeholders. It should also emphasize the public policies that have proven to be a flagship for the country in terms of sustainability over the years.
And I really like this quote from Rebecca:
Country-of-Origin in our case has over time become less about the functional attributes of our country (the land, water and air) and more about the emotional trust a consumer has in the products, services and people who originate from our nation. Morality, transparency and integrity are more important to a consumer and these attributes transfer to trust in what you produce.
Introducing An Insider's Guide to Place Branding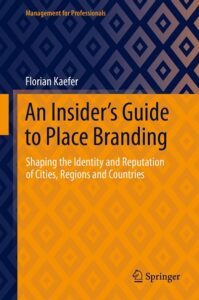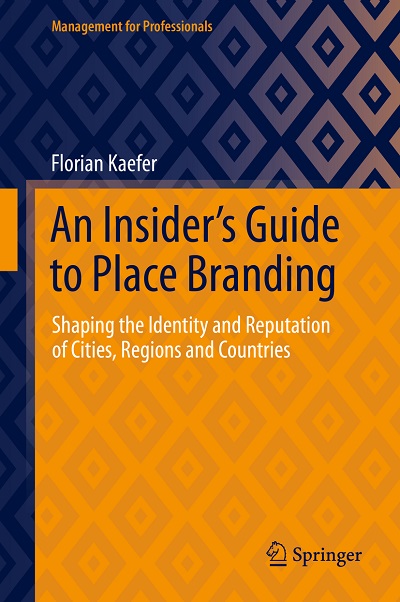 Costa Rica and New Zealand are only two examples of locations – cities, regions and countries – around the world which have found ways to considerably contribute to their economy's competitive edge through smart place brand management. You'll find many more examples and the toolbox needed to succeed with place branding in our Knowledge Hub area on the website, and – in comprised form – in An Insiders Guide to Place Branding, my book which was just published by Springer International.
I think you'll especially like this professional guidebook because it presents a unique collection of expert interviews, combined with latest research insights and thoughts on the most relevant topics and trends linked to the reputation, brand development and management of cities, regions, countries and destinations.
During my masters and doctoral studies, I always wished that there were books which offer a combination of inspiring personal stories and reflections of the key persons in the subject area (so I could get to know their views, approaches and learnings and not just know them from their name in a literature review), and at the same time would contain essential know how on the topic at hand. So that's what I tried to achieve with An Insiders Guide to Place Branding.
I very much hope that you like it and that it helps you better understand and succeed with place branding. I will tell you more about the book and specific chapters in future episodes of this podcast, including keys for place branding success and how place branding can contribute to a better world.