Not all place branding projects make it to the stage of realization, no matter how innovative the consultant's idea or elaborate his craftsmanship. AINNIA is one of those cases, as Jeremy Hildreth illustrates in this guest post.
---
Many place brand consultants like to specialise in one type of client, for instance countries or cities.
Not me.
As a practitioner for the last ten years, I've worked on every level of place, from the smallest to the largest, from property developments, to neighbourhoods, to cities, to regions, to countries, and even, once, a continent. (Yes, I branded a continent — or attempted to — and that'll be the subject of a future column here.)
In place branding, I've seen and done it all. But, alas, not everything I've done has been seen by all. Put less cryptically: quite a lot of interesting work has been left on the cutting room floor, never making the leap from the PowerPoint slide to the real world.
This is normal in the consulting business and creative industries, a highly common occurrence. For instance, in my recent interview with legendary former WPP creative director Neil French, he admitted that some of his favourite work of his career — including some place-of-origin ads for Air India — never ran. It's par for the course.
Nevertheless, it's frustrating to put your heart into something only to have it never materialise in any substantive way. I have no way of knowing, but sometimes I imagine I've suffered this more than average, possibly because I push for outcomes that are ambitious and which come with a higher degree of difficulty in terms of implementation. Or, I work with more clients who are undertaking more speculative, high-risk, high-reward ventures. I just don't know.
At any rate, one of my first experiences with the disappointment of stillborn work happened a decade ago. I was head of place branding at Saffron, working with Wally Olins, when some German visionaries — well, Wally called them "chancers" — rang up our office in London. They had a plan to build a ski hill on a desert mountain in Abu Dhabi.
Say what?
Correct. The plan was to enclose a portion of a mountainside in a gigantic refrigerated (actually frozen, I suppose) glacier. Within the glacier would be a ski slope (with two runs, if memory serves) as well as the world's only full-size indoor ski jump, where Olympians would practice their flying in the off season. Of course — of course! — there would also be a fancy hotel or two and plenty of luxury retail incorporated into the development.
We were hired to devise the identity — concept, visual elements, and a name — while other folks worked on architecture, engineering, and so on. Unlike many consultants, I've always enjoyed being part of these unwieldy consortiums because ideas flow freely and I can learn about other disciplines (my alter ego is an architect, indubitably).
The renderings of the planned development were eye catching, to say the least. I recently unearthed this 14-second flyover video on my hard drive:
[youtube https://www.youtube.com/watch?v=SPJaJbfi5w8]
Nifty, right?
Of course we had to visit the site in person, too. Ben Knapp (then my junior but now Saffron's chief strategy officer) and I made the journey together to the UAE. The glacier was planned for a craggy hillside in the town of Al Ain, Abu Dhabi near the border with Oman, on a mountain called Jebel Hafeet, an hour's drive from Dubai.
The day we visited toured the mountain, it was like +40° C. I couldn't believe you could build an indoor ski facility on this spot. But, they explained, the engineers had already worked out how to construct a lightweight roof-carapace-thing that could bear up to the extreme temperature differential between inside and outside.
As it happens, the winding road up to the top of Jebel Hafeet was already a little bit famous. With glorious black tarmac and 21 turns, the snaking ascent is known as one of the world's great driving roads, "rated up there with Italy's Stelvio Pass and Australia's Great Ocean Road" according to one source. Later, the client showed us car ads which had been filmed there, in an effort, I suppose, to reassure us of the intrinsic sexiness of the location. It was all pretty far out — but I like that. The wilder the project, the more seduced I am.
As is usual for this kind of branding gig, we developed a few options for the client's consideration, all of which were variations on a theme of how fantastic and fantastical this development was. We explored the relevance of elements like paradox, contrasts, extremes, technological dominance of nature, perseverance and tenacity, illusion, suspension of disbelief, and peak experiences. It was a thorough, high-quality presentation that combined trenchant analysis and speculative vision in a style I've come to refine in the years since.
The best part, though, was the name.
We christened the whole mega property development with the palindromic moniker "AINNIA," which incorporated the location (Al Ain) and captured the surreal and utopian nature of the development. Credit where it's due: this was Ben Knapp's brainwave — it struck late one evening in Saffron's office, while he was sifting through available five- and six-letter dot-com domain names. From across the room, he called out "Ainnia!" and we knew immediately he'd hit pay dirt with that one. "Register it," I shouted back. And that was that.
At that stage, Marc Hohmann, one of Saffron's creative directors (now MD of strategy and design at Sterling Brands in New York), set to work on the graphic design. He did one identity with a sleek polar bear towering over a stylised pyramid; another had a snowball-like meteorite colliding with Earth, forming an atomic burst; and another featured a flaming snowflake (a symbol which, come to think of it, could be revived today to represent those poor Millennials who are burning up with Trump Derangement Syndrome…. joke!).
My favourite visuals — and the client's — were the typographic ones. They really emphasised the palindrome of the name and managed the feat of being geometric, poetic, and sonorous all at the same time.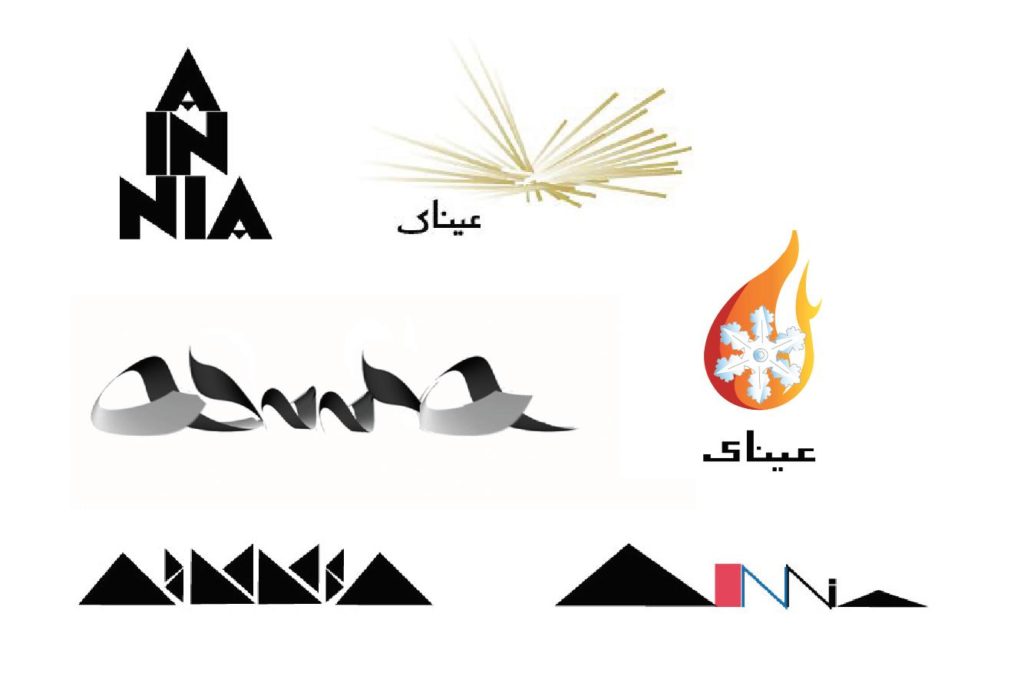 I have no recollection of which identity was ultimately chosen, or even if we got that far, because that's about when the plug got pulled. The client, or the client's client, or the sheik or sheikha, or somebody, got held up on the financing or the planning permission or something. The stars did not align, anyhow. No snowflakes, burning or otherwise, ever fell on Al Ain, nor did any human snowflakes ever have the privilege of snowboarding down the side of a desert mountain on futuristic slopes within a man-made "glacier."
Ergo, you, ladies and gentlemen, are seeing AINNIA for the first time. Thanks for letting me share it with you.
Postscript: When I Google Al Ain now, I see they did finally build a whitewater park called Wadi Adventure on the site, which has the world's longest man-made whitewater river and world's largest surf pool. Come to think of it, I remember this was also in the original master plan: for the glacier to "melt" in the desert foothills, becoming a set of water features and functions. Lovely thought, even mildly genius. Wish I'd thought of it myself. And I did collaborate again with the German visionaries a few years later — an exhilarating band, they were, full of lofty ideas and grand schemes. And I still work sometimes for property developers, which I love doing and which is perhaps the only aspect of my current career that pays homage to my undergraduate degree in real estate.
---
Enjoyed this guest post by Jeremy Hildreth on the AINNIA project and the many hurdles place branding consulting projects need to pass before they are given green light? Share and spread the word!