A few months ago, OECD presented its latest version of the How's Life study, aimed at measuring and comparing citizen well-being in countries which are part of the organization. We caught up with the study's author, Carrie Exton to learn more about the findings, trends and main challenges linked to well-being.

Carrie, which findings of the 2017 How's Life study did you find the most intriguing?
We know that focusing on national averages hides a lot of important variation in well-being within countries. And it probably won't surprise many people to learn that well-being differs according to where you were born, your age, gender, education and income. But the well-being inequalities we show in the report are still quite striking in a couple of different ways.
The first is the sheer extent to which gaps in achievements and opportunities reach across every aspect of people's lives. So for example, people with lower levels of education aren't just earning less and carrying a much higher risk of unemployment – they also have lower life expectancy, are less likely to vote, feel less safe where they live, and are less likely to have people that they can count on for help.
The second is the depth of some of these inequalities. For example, while 21% of women in OECD countries are in low paid jobs, only 13% of men are. And despite having higher rates of educational attainment than the generations before them, under-25s are 60% more likely to be unemployed than people aged 25-54.
Thirdly, we find pockets of high inequality and low well-being in all OECD countries – suggesting that even the wealthiest nations are still leaving some people behind.
And finally, the extent of economic insecurity is surprising: across 25 OECD countries, more than 1 in 3 people would fall into poverty if they had to forgo 3 months of their income.
[youtube https://www.youtube.com/watch?v=WjOMHaNp5GY]
Which countries have seen the strongest increases in well-being? And the strongest declines?
We have been able to look at change since 2005 across 21 of our 25 headline indicators of current well-being (we still have some data missing in a few cases).
The countries that have seen the highest number of gains are Estonia, the Slovak Republic, Latvia and Poland – where there have been improvements in at least two-thirds of the available indicators.
Hungary, Slovenia, the Czech Republic and Germany have also seen improvements in at least half of all the current well-being measures in the study.
By contrast, Greece, Italy and Spain have seen worsening conditions in between one-third and one-half of the available indicators. Denmark, Ireland and France have also seen falls in well-being on at least one-quarter of the outcomes measured since 2005.
Looking back over the last years, which trends do you observe, with regard to well-being and livability performance across your criteria?
Looking at the OECD as a whole over the last decade, we find that people are better off in some ways, but several aspects of well-being are lagging behind. Progress in people's living conditions since the economic and financial crisis has also often been slow and unevenly distributed.
For example, OECD average household income and annual earnings have increased by 8% and 7% in real terms since 2005 – yet this is roughly half the growth rate recorded between 1995 and 2005, and not all countries have shared in these gains.
More people say they feel safe walking alone at night where they live, and employment is higher than in 2005 in around half of all OECD countries. And although it stalled in 2015, OECD average life expectancy has gone up by nearly two years overall.
Yet, despite these improvements, other aspects of well-being have failed to keep pace. In around half of all OECD countries, long-term unemployment remains higher than in 2005, and OECD average labour market insecurity is around one-third higher than when first measured in 2007.
Compared to the pre-crisis years, voter turnout has fallen, the OECD average life satisfaction has decreased slightly, and the share of people who feel supported by friends and family has fallen by 3 percentage points.
So, as economies begin to regain their momentum after the crisis, there are many people who are not yet feeling the benefits, in several aspects of their lives.
Why this study in the first place? What motivates OECD to publish it?

The OECD's mission is to support better policies for better lives. To assesss whether people are likely to be getting better off, economists have often traditionally relied on statistics such as Gross Domestic Product (GDP). But there is more to life than GDP; while it is a very valuable headline number, it says nothing about how economic gains are distributed, whether they are achieved in environmentally sustainable ways, or whether aspects of people's lives that cannot be measured through money are improving.
Many elements of well-being that people place a high value on – such as good health, personal safety, time spent with friends and family, and clean unpolluted air – are not traded in markets and have no prices, making them difficult to account for through GDP alone.
So, we need a broader set of measures if we want to understand whether life is getting better – and for whom. And that is what How's Life? is trying to help do.
How does the How's Life study work, in terms of methodology?
Since 2011 we have been developing a framework for measuring well-being (shown below) that includes 11 dimensions of current well-being, and four different types of resources for future well-being. This is underpinned by a set of around 50 indicators in total. It builds on both academic work and a wide range of international efforts, many of which have included large-scale public consultations, to better understand what matters most to people.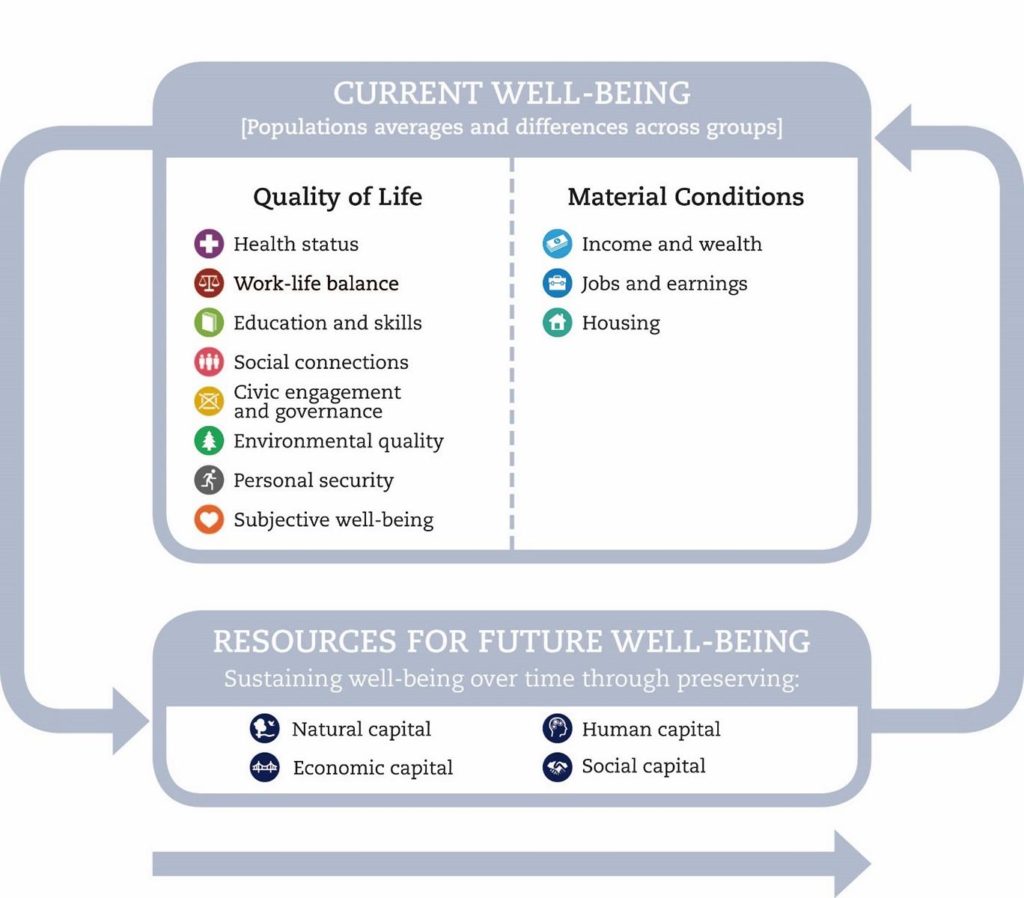 One important point is that we don't specify just one recipe for achieving a good life – meaning we don't add all the elements into our framework into one big "total well-being" number. Instead, our aim is to measure the key ingredients that all people should have access to, no matter who they are, or where they are.
The indicators are selected on the basis of several different criteria, including statistical quality and country coverage, but also their ability to capture relevant outcomes of interest (such as how healthy people are) rather than inputs and outputs (such as the number of doctors per person in a country).
We also work closely with national statistical offices to try and improve the availability, quality and comparability of well-being data across the OECD.
Thank you, Carrie.
For more information, visit this OECD website and the How's Life? 2017 page