Branding plays an important role in the development and positioning of hotels – more and more considered temporary homes and meeting places. In Europe, 25hours Hotels (now part of Accor group) have been particularly fresh and innovative in equipping their properties with that unique mix of quirky design, out-of-the-box experiences and empathic service – the very combination which is now so sought after, especially among Millennial travelers.
Bruno Marti is the Chief Brand Officer at 25hours Hotels and as such responsible for branding, marketing, pr and communication. Following his invitation to stay at 25hours Zurich and 25hours Düsseldorf to experience this popular hotel brand first-hand, we caught up with Bruno afterwards to find out how they do it. 
Bruno also shares his thoughts on how culinary experiences and sustainability are going to impact the competitiveness of hotels in the near future – two topics which we will pay particular attention to in 2020.
Bruno, why did you join 25hours hotels, and how has the company evolved during your time there?
This is one of the questions that makes me feel old. I joined 25hours almost 13 years ago when a young, urban, dynamic stand-alone hotel project (25hours Hotel Number One in  Hamburg) was to become a blueprint for a whole group of individual hotels. Since then, we developed 13 hotels in Germany, Europe…and now in Dubai.
What makes the 25hotels brand special? What kind of guest do you seek to attract?
The key brand identifiers are individuality and surprise. This sets us apart from traditional cookie-cutter chain hospitality, where repetition of the same experience is brand promise. On top of that, we have an open minded and democratic approach to people: everybody is welcome if they share some of our values and enjoy the community.
How important is a hotel's brand positioning nowadays, especially in terms of economic success?
To stand out, a hotel needs an attitude and stable positioning nowadays. We live in a very transparent world. Online reviews and social media are a constant reality check of your brand promise and something of a competition radar for our guests. This said, it is not important what your positioning is, but have one!
25hours hotels are at the forefront of a trend where hotels are seeking to become meeting hubs for neighbors and visitors alike – which essentially makes them branded places. What triggered this change in hotel strategy and how do you think it will evolve?
The localizing trend is probably initiated by a growing number of more conscious travelers. When on the road, we want more than just bed and breakfast, but an experience of the place we are in.
At the same time the structure of hotels has changed. By putting more emphasis on public community areas, they have also become more attractive to neighbors to drop in.
Which other trends in the hospitality business do you observe, likely to be of relevance to placemaking professionals and property developers?
This question cannot be answered globally. There are different trends in urban areas compared to leisure destinations and while Europe experiences a green wave also in the demand towards hospitality providers, this is not yet the case in many other areas of the world.
Overall, the mid-scale hotel segment seems to be less attractive these days on the urban market. Budget or upscale products have a clearer positioning and therefore the advantage of "I know what I get for that price".
Another global observation: Gastronomy has become a more important distinguisher between hotel products. Rooms of different brands are very similar in structure. But restaurants and bars make the difference.
---
Recent image film which illustrates our brand positioning at 25hours:
---
Sustainability is often dubbed the new luxury in travel – something more and more travelers expect, especially in the 4 and 5-star segment. How important is a hotel's sustainability image and performance nowadays, for its competitiveness?
Ask me this in 2-3 years and my answer will be different. Right now hospitality – with the exception of a few pioneers – is in a change process. Sustainability is more and more asked for but not always fully understood. For competitiveness it is – by far – still the good old "price and location" that influences the market most.
Christof Burgbacher in his interview with the Sustainability Leaders Project stresses the need to focus more on the social aspects of sustainability, in addition to environmental management. Which part of sustainability do you find easier to navigate at 25hours – social or environmental?
Social sustainability is an easy win for our industry. Hospitality is all about people, service and culture and communication. We are social places by nature. But environmental initiatives cost time and money – two things we have too little of.
How do you involve the local community at 25hours? How are you turning them into brand ambassadors?
Yes we do, but the approach can be very different in each location. We have an artist in residence program with a local art curator in Zurich, bake cookies with the children of the neighboring Kindergarden in Hamburg or have adopted a monkey in the Berlin Zoo. This is nothing one can steer centrally as a brand. Our local managers do a good job in connecting with the neighborhood and city.
Another distinguishing characteristic of 25hours hotels are your restaurants – each of them themed in accordance with a specific country, such as the Israelian NENI in Zurich. How do you choose suitable countries for your themes?

NENI is indeed one of our top sellers when it comes to restaurant concepts. As mentioned before, gastronomy has become quite an important part in the positioning of the hotel.
So, for each location we make an analysis of what would fit best from our concept portfolio. This includes – apart from the Israelian NENI – an Italian, a French and an Alpine restaurant concept, a burger joint and several types of bars.
If we don't have the perfect match, we develop something new. Right now we are for instance working on an Italian Cake/Tearoom concept for our Copenhagen project.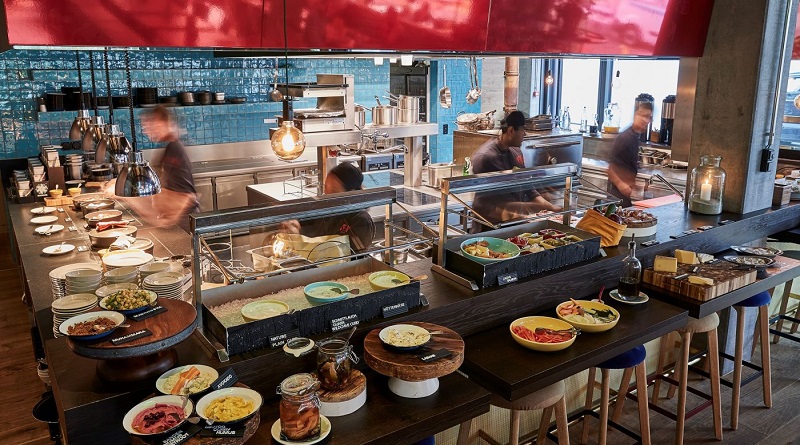 In your experience, how important are a hotel's a) brand and b) sustainability nowadays for attracting business travelers and MICE?
To be absolutely honest: both brand and sustainability are more important to individual and leisure guests because they make a more conscious decision when choosing hotels and compare competition.
Business guest are usually booked for and are guided by price and convenience. But of course, most companies with corporate contracts also check on brand profile and sustainability initiatives.
What's next at 25hours? Any new properties, initiatives or actions in the pipeline?
It's all about conquering the world. Next up are Florence and Dubai next year, Copenhagen in 2021. Some major cities around the globe are in the pipeline. Yet, it sounds more than it is, 3-5 properties per year is no fast growth, compared to industry standards.
Thank you, Bruno.
Connect with Bruno Marti on LinkedIn or follow 25hours via their website, on YouTube, Instagram, Facebook or LinkedIn