Raquel Goulart Sztejnberg in this interview reflects on her work as brand strategy consultant in Rio de Janeiro, Brazil, and shares her thoughts on place branding trends and challenges.
Learn about:
The purpose of place branding

;
What a good place brand strategy looks like;
Which consumer trends influence destination branding initiatives;
The key differences between branding products and places;
How place branding works differently in Latin America, compared to Europe, for instance;
Her thoughts on Brand Brazil.
---
Raquel, what does place branding mean for you?
Capitalizing the genius loci. Understanding the uniqueness of the place and how much relevancy it can build and deliver to its publics. The search for authenticity is a big challenge in corporate and product branding and it applies also to place branding.
Uniqueness and a genuine positioning highly impacts, in my opinion, the level of place attachment and therefore the sense of belonging towards a city/region/nation. It is not about the strategy itself, it is about how the strategy will positively impact people's life.
Why did you join the Best Place Institute as expert?
I must say that I am a huge fan of that team! The Institute is a very solid and respected organization and gathers a fantastic group of professionals and researchers.
Places are not products on the shelf, they are much more complex to brand and this is a fascinating exercise. I've been working as a brand strategy consultant for more than 10 years, and wanted to deepen my knowledge in this area after developing studies on mobility, territorial development and slow travel. It is critical to discuss how to build and manage more creative and magnetic places to be, live, grow, work, visit, get old, defend, invest and engage with.
As one of the few persons to talk about place branding in Brazil, I was also interested in promoting this bridge with Europe and hopefully there will be new occasions in the near future to bring more experts from the Institute to share their precious experience on the academic and consultancy fields. This exchange can be fruitful for both sides, as there is still so much to do in this part of the Hemisphere, with its specific dynamics and challenges.
I'm convinced that theory and practice must get closer and I also wanted to contribute to the improvement of that relation. It is vital to co-create and share knowledge. It is not easy, but it is feasible and it will be done slowly and consistently. Everyone will benefit from it.
What does a good place brand strategy and development look like?
Purposive and meaningful for people's life: it should be able to inspire engagement and reinforce identity, while clearly defining a shared vision for the place as well as a role for each place-partner in order to foster collective development.
As I wrote in the Place Branding Manifesto, place brand strategies are about developing mutual commitment and transforming territories from geographical spaces into places full of stories worth telling.
Finally, any good place branding effort should be preceded by clarity and transparency about motivations and expectations.
Which current consumer trends are the most significant for city or destination branding initiatives?
Sharing economy
Place making and co-creation
Increasing mobility and new nomadism
From your experience, what is the main difference between branding products and places?
I would answer by stating the similarities between them: the need to create a singular positioning, draw or reinforce strong brand equities, and focus on lasting consistency. The main difference, in my opinion, is how those aspects are built in the two worlds.
Also, in corporate/product branding, the variables (such as consumer trends, perceived brand image, competitors, etc.) are more identifiable and controllable, while in place branding those components may assume wider dimensions with multi-layered aspects that are not easily manageable. But that's also a reason why it is so fascinating, right?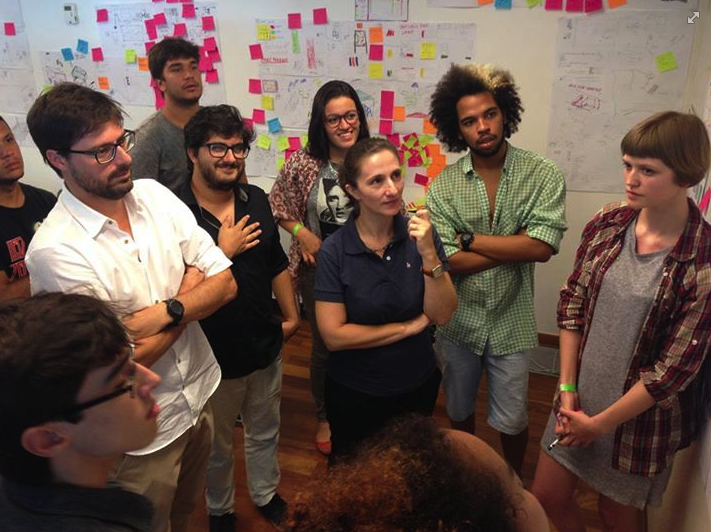 Imagine you are put in charge of developing a long-term place brand strategy for Rio de Janeiro – what would it look like?
That's a million-euro question, and it is hard to answer because Rio – as well as the whole country – is marked by contrasts, such as stunning beauty versus growing poverty, or abundant natural resources versus extreme social inequality, just to mention two of the most visible aspects.
I was recently talking about place branding for Rio in a class at the European Institute of Design and a student asked me: "Where do we begin?" There are so many basic aspects to care such as mobility, safety, education, sanitation…talking about having a brand and being strategic seems almost pointless. Almost luxury.
Branding is about delivering a promise. It is to me about bringing clear evidences of change. Are we ready to do that?
Do you see any differences in approaches to place branding in South America, North America and Europe, for instance?
Although in Latin America you can find few but significant examples of good place branding cases – I always mention Colombia, Peru and more recently Costa Rica –, I believe that there are some specific traits that influence the approach to the discipline and it's overall comprehension and implementation.
I'll give some examples found in Brazil: low standards of civic engagement, lack of cultural uniformity (due to miscegenation, immigration and the variety of regions, habits, lifestyles, etc.), huge social inequality, and high level of political instability.
Your thoughts on the country brand of Brazil?
The brand is trapped in fragile associations. I fully agree with the opinion of Simon Anholt when he says: "Brazil is a country with a very powerful and distinctive image, associated to joy. But the nature of the reputation of the country is very light, so this touristic, decorative image is unfortunately the wrong one".
Your favorite place branding book at the moment?

In 2014, my favorite book was Rethinking Place Branding: Comprehensive Brand Development for Cities and Regions (from Mihalis Kavaratzis, Gary Warnaby, Gregory Ashworth).
This year I'm re-reading books about mobility (New Nomads, from Arianna Dagnino; The Tourist Gaze by John Urry and Jonas Larsen) and anthropology (Stuff by Daniel Miller and Non Places by Marc Augé and John Howe).
Thank you, Raquel.
Connect with Raquel Goulart Sztejnberg on LinkedIn.
---
Enjoyed our interview with Raquel Goulart Sztejnberg on place branding trends, challenges and the country brand of Brazil? Share and spread the word!