Combining more than 9 years of experience at Bloom Consulting, Gonzalo Vilar has developed place branding strategies for more than 30 cities, countries and regions related to tourism, talent attraction, FDI and exports.
Since 2011, he is responsible for the Bloom Consulting Country Brand Ranking © series, an annual research project classifying 180+ country brands in the fields of trade and tourism. Gonzalo is also responsible for the Digital City Index where cities are monitored every year regarding their touristic, trade and talent appeal.
Gonzalo, during the last ten years you have helped to develop numerous country branding projects. Do you remember the first time you heard about "country branding" and countries as "brand", and your initial thoughts?
12 years ago, I was exposed to the industry through Jose Torres, Bloom Consulting's CEO. I was initially curious to know more about how Bloom Consulting approached the strategy of the Portuguese Government back then. This project intended to empower the Portuguese nation, using creativity as a main asset.
In terms of initial thoughts, coming from a technical background I was fascinated by the idea of country branding and eager to learn more. After finalizing my MBA studies, there was no other option for me but to get involved in this exciting and emerging field.
How has your view on country branding changed since then?
The industry has evolved and matured dramatically over the past 10 years. There is now a consensus within the field that country branding is more than logos and marketing.
Complimenting this change in strategy, there has also been a revolution in how we measure place brand performance and reputation.
Since 2011 you are responsible for Bloom Consulting's Country Brand Ranking. In a nutshell, what is it about?

The Bloom Consulting Country Brand Ranking was a shared vision developed by Jose Filipe Torres and me. When we instigated this project, the aim was to share knowledge and to develop the industry. Despite the existence of other rankings, there was a need at this point to measure and compare country brands in a more objective way, which embodied the concept of moving from perceptions to facts.
The primary objective of this ranking is to measure the economic and social impact which international perceptions may have, over time in each country. In this specific ranking we focus on Trade (FDI) and Tourism; two of the dimensions which form part of our Country Brand Wheel ©.
In terms of methodology, we derive our annual Country Brand Ranking © from our proprietary algorithm, (again) considering only tourism and investment-related variables in its formation.
The ranking comprises four key variables used to analyse the success of 180+ unique country and territories brands, as well as their relative performance as compared to one another.
The algorithm accounts for a country's economic performance, its online performance, as well as digital measurements, to present an accurate and objective brand ranking.
In your experience, how has the practice of nation and country branding evolved in recent years?
The practice of nation branding has become more diverse as a field, with the addition of more competent professionals and innovative tools for measurement. However, for me the biggest evolution in country branding is the silent revolution of the digital identity. They are seamless – nation branding and digital identity are the same thing but treated separately. Countries and cities now need to engage and understand how important those two are together.
In your annual Digital Country Index and Digital City Index, you focus on country and city (brand) performance in an online context. Why?
We found that almost anyone interested in a country or city, first searches for more information online. Therefore, the "search" volume has become an important KPI for countries, regions and cities, which led us to offering a ranking specifically focused on "digital".
The Digital Country Index and Digital City Index measure the total amount of searches performed worldwide toward any given country or city. The result is a clear indicator of a country's or city's brand appeal.
The objective of those two indices is to provide the least subjective results possible, which is why the methodology is based solely on search volume across various dimensions (5 dimensions for countries, 3 for cities). More information on the two indices here.
As someone who has advised both tourism and investment agencies, are there any differences in how those approach country branding?
Although NTO's (National Tourism Organisations) and IPA's (Investment Promotion Agencies) share the same goal (attract wealth to the country), I observe that most times they simply won't work together on a shared country brand strategy. They all understand and even agree on what that common strategy is, but when they go back to work, they don't talk to each other and they don't coordinate efforts.
I think this is a missed opportunity for countries to succeed with their country brand strategy. However, for cities, from our experience, this works better.
In your essay, "Branding Difficult Destinations" (published by the World Bank) you discuss how place branding can provide stability to conflict-ridden regions. Which are the key points and implications you present in the essay?
The key points in the essay centre around overcoming fear of low intensity and high intensity events in conflict-ridden areas, with examples mainly from the Middle East. The key message is that you can't brand against fear (e.g. political instability due to terrorism or war) and that the level of intensity of such events determines how long it will take destinations to recover.

What is interesting to note is that the speed of the recovery from violent events depends on the strength and resilience of the city or country brand.
A further conclusion is that, although you can't brand against fear, you can brand it as emotional cause. Sometimes this creates an opportunity for the destination to become the magnet for a movement linked to a specific cause.
That said, in the digital world perceptions can change much faster. One isolated event can have a strong impact. Take Brussels and Istanbul as examples: the terrorist attacks and political instability had a tremendous negative impact on those cities in terms of digital demand (number of online searches).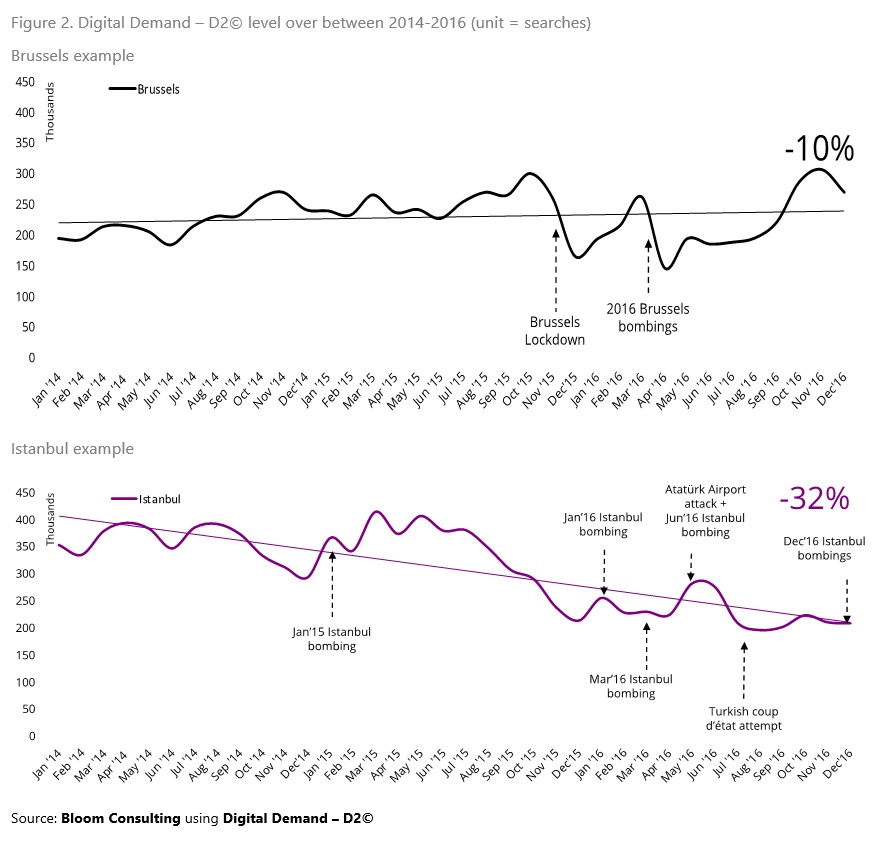 As you may see on the image above, it took more than one year for Brussels to recover the level of touristic demand (searches), whereas Istanbul is still suffering from violent attacks and political instability. All this, while other competing cities experienced an average yearly growth in searches of 20%.
Spain as a country and nation has been in the international spotlight recently for its questionable (violent) response to the independence movement of Catalonia. How do you assess the situation from a country brand point of view?
The troubles regarding the independence movement of Catalonia have a long tail and are not solely isolated to one violent episode. Political instability is a catalyst not only for a negative national/regional image, but it has also an impact on the economy.
However, what is interesting to observe, is that the Catalonian political instability has had a negative effect not only for Brand Catalonia and Brand Barcelona, but also for Brand Spain.
In fact, an internal research project at Bloom Consulting revealed that, even though it may look like Madrid is benefiting from the instability, this is not actually the case, as the overall loss of 'tourism and investment' of Barcelona is not being transferred to Madrid.
Therefore, we can conclude that there has been a loss of 'brand equity' for Brand Spain as a whole.
Thank you, Gonzalo.
Connect with Gonzalo Vilar on LinkedIn, or find out more about the services of Bloom Consulting here.