Christopher Hire, founder of the Innovation Cities Index, in this interview discusses what it takes for 21st century cities to be – remain or become – competitive for economic development and to attract foreign direct investment (FDI), both of which are among the most frequent reasons for city branding initiatives.

Learn about:
How a city's innovative practices affect its reputation and brand;
Main insights from the latest Innovations Cities Index;
What a city needs to excel on the innovation front;
The biggest challenges faced by cities right now;
Two examples of cities doing particularly well regarding innovation.
---
Christopher, it is now 10 years since your consulting and research agency 2thinknow was founded. What has changed since you started?
Yes, the 10 year anniversary comes upon us in August. It seems so long ago that I was sitting in the Hotel Bristol in Vienna in 2005, thinking of how to apply concepts across very different cities.
This came after studying micro-economics of markets and firms, and after studying the history of innovation, trying to find out how I could help others create innovation in cities worldwide.
Questions that drove me when I started my career (and still do) were: how can we make the cities better places to live and work? How can we help cities overcome challenges? What data would we need to know what was happening on the ground in cities? And how could we make cities attractive for investors?
Part of the insight came from my experience, at the time implementing tech projects in very large corporations and governments to solve specific problems in accounting, infrastructure, budgeting, HR, etc. I saw that change was not easy in organizations, and I started thinking of cities as organizations, and wondering why more had not been done besides the work of Richard Florida, Jane Jacobs, etc.
Then there was that global financial calamity which, as I predicted in our blog at the time (in mid 2007), arrived in 2008. Thankfully, we all avoided the depression, but the Great Recession fundamentally reorganized cities and some stock markets have just gone side ways since that time, due to a lack of creating the right sort of innovation culture inside many companies.
In its 10 years 2thinknow has gone from the born global extension of another Australian data company to being a global company with 90% of our revenues from outside Australia and customers spread across every continent. And in the 10th anniversary we have big things planned!
Back to the key changes over that ten year period — an obvious one are smart phones, which have changed the world profoundly since my first Windows smart device in 1998, a Cassiopeia (if anyone remembers those), followed by a Psion 5mx and a Toshiba e310 and iMate!
Do a city's innovative practices affect its reputation and brand?
The innovation practices of a city are at its heart, in its culture and its people. This culture of innovation is slow to establish and slower to change. The San Jose to San Francisco ethos is shown in many data points which we track about cities. But the data is sometimes the symptom of the conditions in the city, and not the driver of the city culture.
Culture of innovation is something which requires a series of interlocking conditions, which we capture in the Innovation Cities Framework. Even something as simple as the number of coffee shops with WiFi can affect the culture of innovation.
To give you a positive scenario, lower casual food prices can mean people meet and interact with each other in cafes. Or in a negative scenario, rampant inflation and no public transport can mean people stay in their cars and drive from place to place.
Cities are the sum of millions of consistent decisions day in day out by citizens. Decisions which are influenced by the existing conditions.
However, a written statement and policy of innovation may not affect a city brand. Few actually read statements on websites, although they are noble things and often help clarify processes of innovation for those in leadership. In reality, strategy and its implementation is what matters. That's what we measure with the Innovation Cities Index.
Can you briefly describe the main insights from the Innovation Cities Index? What is the index all about?
The Innovation Cities Index is about measuring the conditions for innovation in a city: those physical and intangible things that together lead to millions of decisions.
The Innovation Cities Index uses three factors for its score: Cultural Assets, Human Infrastructure and Networked Markets. Measuring these three factors shows how cities can progress ideas into implementation and global communication – what is often referred to as going 'viral'.
It's no coincidence that many ideas start in San Francisco, London, Paris, Vienna, New York or Boston before going 'global'.
To derive the Innovation Cities Index, 2thinknow analysts access 162 indicators linked to city performance. We continually review and refine the process of measuring innovation through indicators, and cities can purchase all the indicators we hold on them.
The Innovation Cities Index is now in its 10th year, and we are working on some great improvements this year.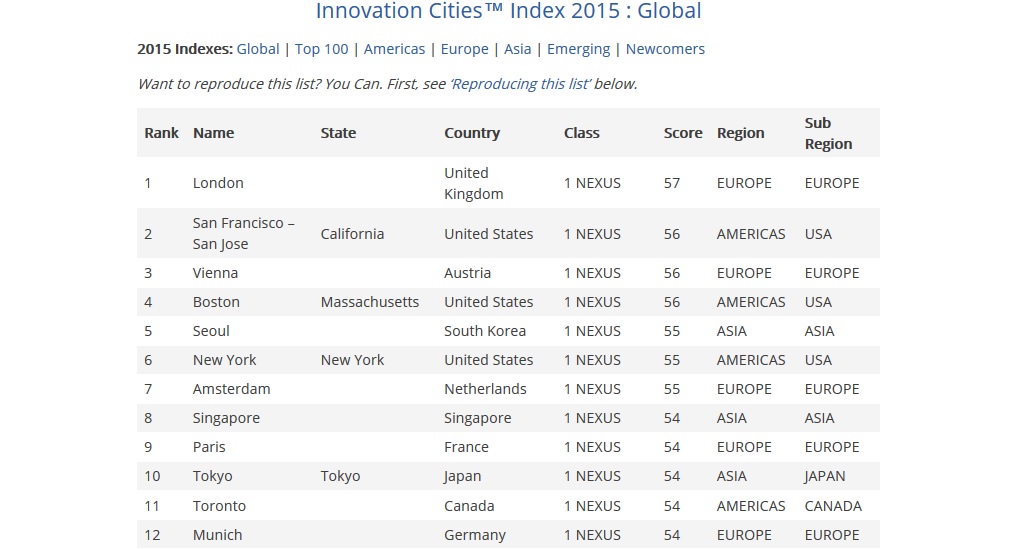 Does the Innovation Cities Index aim at motivating cities to take action towards the improvement of their performance, or is it more for statistic and reporting purposes?
The Innovation Cities Index is a classification which we produce freely available for a general assessment of cities innovation performance.
To improve their city, cities can order the detailed data provided by us to assist with their planning. Based on this data, 2thinknow can help cities to become more innovative and thus competitive.
A practical example, high rates of violent crime reduces the amount of interaction in a city, forcing more people into their cars. Fear of violent crime makes people less likely to trust others, and thus interact in business.
There is a correlation between high rates of violent crime (at its extreme a civil war) and low rates of business activity. Lowering violent crime can increase business activity in this example.
If cities take steps to reduce violent crime – such as New York did with the broken windows theory in the past, when combined with other indicators this will improve their performance in business more than purely promoting the city as a business destination.
Highlighting the linkages between indicators is something 2thinknow are uniquely placed to do, due to our history of digging for city data in detail. We are working with a prominent Latin American city to do this at the moment.
Can you give us an example of a city doing particularly well regarding innovation (and why)?
London is number one in 2016 for innovation: a city that and has risen slowly and gradually over the 89 years of the Innovation Cities Index.
A lot of people got their noses out of joint back in 2007, when London didn't rank well in the 22 cities which we profiled in our first edition of the Index. We were correct in this assessment, as London declined rapidly during the Global Financial Crisis [GFC], and our analysis/Index foresaw that German cities would outperform London during this time. Others were caught flat-footed by the resilience of German cities compared with European capitals.
In 2007-8 we had very different methodologies and a much smaller number of cherry-picked cities, but even in later years London did not trouble the number 1 spot. But London steadily rose and ultimately emerged as 'first in first out' of the GFC, thanks to the support for the innovation eco system by the local authorities. They tried a lot of stuff and kept what worked, and David Cameron has also supported innovation beyond just clusters and the usual strategies.
Barcelona is also recovering its rightful place, in innovation thanks to improving economic data. We are quite excited by cities that have risen fast in our Index in 2015, so that data is available to posit where else we may hold a relative interest in their future.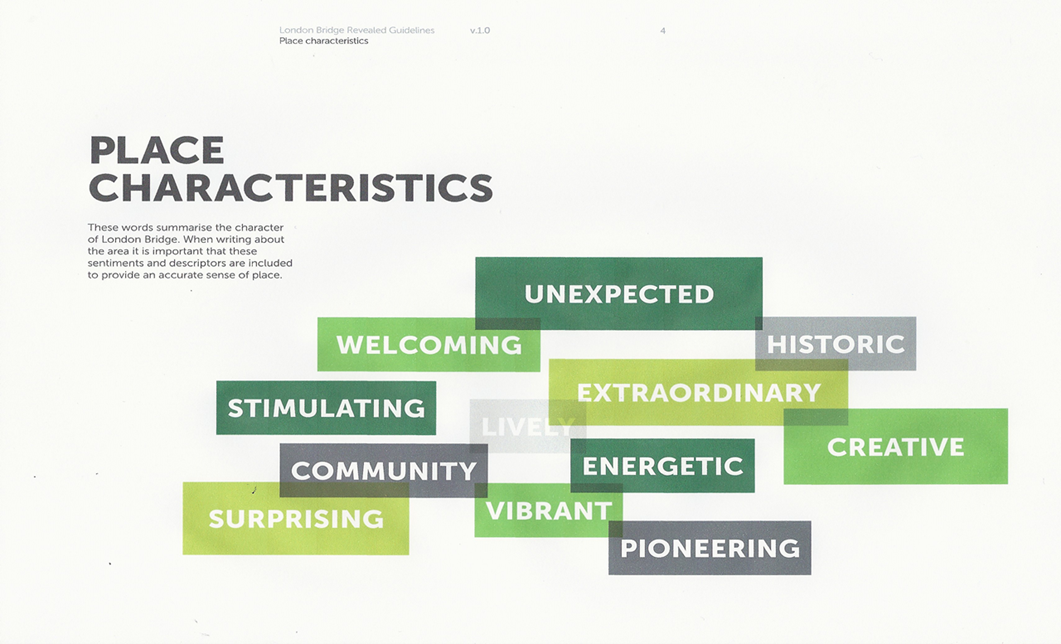 Read our case study on the brand development of London Bridge
What does a city need to be able to excel on the innovation front?
The general answer, a city needs the right conditions to create ideas, implement ideas and communicate them to global networks. Different cities have different strengths in these three areas. This can be understood by breaking the city down into our 162 indicators, based on raw data points.
Some of the 162 indicators are a greater priority – as I mentioned, high violent crime numbers tend to impede innovation. Low rates of business activity also, and so we track this in a lot more detail, and we have some exciting ways to measure business activity.
What role do a city's residents and business owners play regarding its innovation performance?
Important. Arguably more important than a city government, in some cities.
Whilst governments can block innovation, it is up to citizens and business to run with the ball, and to take the lead on innovation.
With the number of urban population constantly growing, which is the biggest challenge cities encounter?
Equity of opportunity: More and more cities are acting as corrupt entities, giving 'jobs for the friends' of the government. Legislation and more procurement rules won't clean this up, as cities become more and more important in terms of government. If this is not fixed, eventually it will lead to civil conflict in cities. We are living in the 70s redux and the civil rights movement, we just don't know it yet.
In reality most citizens want the same thing – to work, find a spouse, have families and improve their circumstances. This is my observation from visiting over 80 cities and talking with citizens and locals in every city and culture.
Thank you, Christopher.
Connect with Christopher Hire on LinkedIn.
---
Enjoyed our interview with Christopher Hire on innovation, place reputation and city branding? Share and spread the word!