Situated in the Arctic Circle, the archipelago of Træna in Norway is well known for its thriving fishing industry and its annual music festival. Though the archipelago is off-the-radar, it is now a melting point of artists, designers, foodies, entrepreneurs, and other creatives.
Moa Björnson, Head of Development at the Municipality of Træna explains how the Tenk Træna initiative is helping the community to diversify its economy. She also illustrates how the AIR Træna project has resulted in the establishment of new businesses, leading to the creation of job opportunities for the locals.
Our key takeaway from our conversation with Moa is how even the most remotely located community can overcome its geographical limitations and attract fresh talent and ideas, by working together.
---
Moa, at the Municipality of Træna you are working towards diversifying the community's economy, from mostly fishing to strengthening tourism, adventure, restaurants, art, and culture. Why was it necessary to start this journey?
Træna is one of the most remote municipalities in Norway, vulnerable due to its location and small size. With a population of around 450 people and with an industry mostly based on fishing, it is necessary to work strategically to strengthen and broaden the business sector.
Efforts to boost the travel and tourism industry, attracting business investment and combined with developing of the arts and culture sector has been the key to a more diversified economy. It's a joint effort to start this journey and we have created a project or a 'think tank' that we call – Think Træna (Tenk Træna) to gather the forces!
How are you involving the locals in the process of strengthening your positioning and attractiveness as a place to visit and live in?
When I came here, I met a proud community, open to developing the archipelago, and with a lot of ideas. I would say that everything that has happened here is based on local engagement – creating a festival, or starting a company, gathering people for a mission, or doing volunteer work. From the very beginning, we have conducted many workshops, idea cafés, working groups and have put a lot of effort to make people not only share ideas, but also be engaged in the actual implementation of them.
We definitely have some challenges, being a micro-community like this, but we need to strive for some common goals, in order to achieve progress.
Being our own municipality gives us the mandate to plan and steer for a development in the direction the islanders wish. When making our new comprehensive plan a lot of locals were engaged in visioning for the future. Politically anchored plans for the overall steering are important tools, just as the creativity and the entrepreneurship in the community is..
How do you attract artists, architects, chefs, and businesses to participate in the AIR Træna Residence program?
A project that we started in 2015 was AIR Træna – a Residency for people to come here, bring a project, and try the island life. The aim was to attract people with competencies and skills that could complement the resources which we already have. The interaction between locals and visiting artists, architects, and businesses is a clear win-win.
For example, a group of architects rebuilt an old boathouse into what became a popular sauna. A designer constructed a wind shelter hut (Gapahuken Havørna) on the outermost spot on Sanna that has drawn attention to the island. A business residency with OSRAM resulted in a lighting project, making the island a showroom for user interaction light design – very much welcomed on an island at the Arctic Circle where the winter is dark!
Another project was from a chef's time as resident, who is a seaweed specialist. It resulted in establishing a seaweed business, now producing local sustainable products from the sea.
The program got a lot of attention from the very beginning and during the course of the project, it is now marketing itself. So far, we have received 450 applications for our residency program (just as many as the inhabitants!) and around 45 projects have been completed in the last five years.
What has been the impact so far of the Træna Residency program?
Through the AIR program, we get vital input to the island continuously and it generates fruitful relations, spin-off projects, and even new inhabitants. Some people have moved to the island, thanks to the residency. And if not moving here, many of them become "part-time islanders" or ambassadors.
With AIR Træna, we are showing that even if we are a remote island and a tiny municipality we can attract highly competent people from a range of different fields! And the locals appreciate the steady stream of new and interesting people and projects.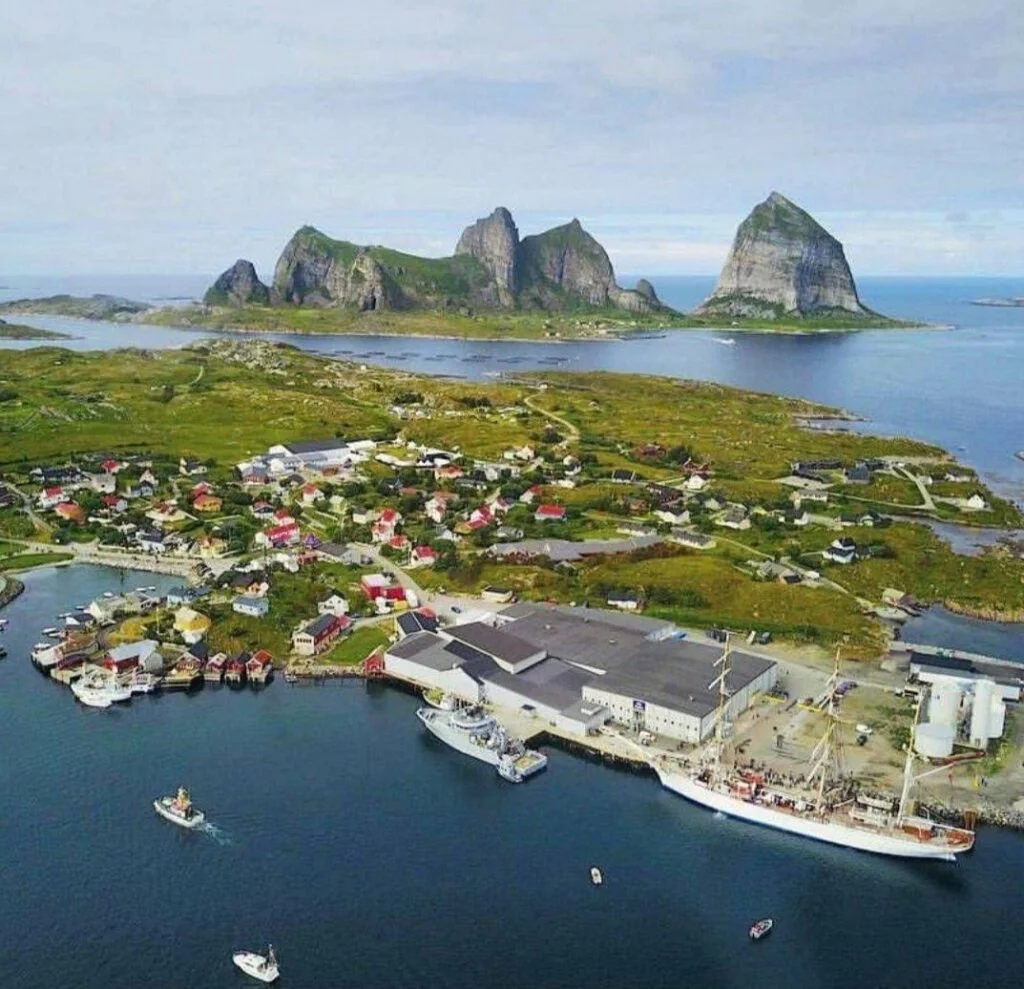 The Træna Music Festival offers visitors an appealing combination of music and adventure. What was the inspiration behind this idea?
It all started as an idea from a few locals back in 2003. They wanted to make a festival amidst the captivating beauty of the surrounding nature, holding concerts in an old Stone Age cave and inviting people on a magical adventure far out on the coast.
The festival has put Træna on the map in Norway, and the Guardian listed it as one of the most spectacular festivals in Europe. Nowadays, we have also started the winter edition of the festival, when storms and hurricanes are frequent. It's a rough and beautiful festival on a smaller scale, showcasing that the winter too, has its charm in the Arctic.
All in all, in terms of benefits, I'd say that the festival put Træna on the map and showed that everything is possible if you come up with good ideas. The residency has further developed Træna as a cultural and creative hub in the north. And the think tank – Tenk Træna has been a driving force to further develop the islands in a strategic way: creating new businesses, research projects, destination development, and collaborating within the region and the Nordics.
Which are the main challenges and obstacles in the marketing of Destination Træna, considering that it is an archipelago that very few people know about?
Our guidebook is called "A poor man's connoisseur coastal guide to a magical world, far up north, out to the left and how the hell to get there". It's written with a good amount of humour but it says something about the pros and cons of the location of Træna.
From my perspective, it's not only an obstacle being furthest out on the coast. Outposts have always attracted people, at least the adventurous ones, so marketing is not suffering from that. But we would, for sure, benefit from new technology such as making the speed boats faster, safer and perhaps also greener in the future. Time is a limiting factor in the travel industry, and we are absolutely hindered from not being very central.
But on the other hand, I think we, during the Covid-19 pandemic, have realised that 'slow travel' is comfortable and worth striving for. At the same time, the climate crisis makes us reflect over how we travel and it will hopefully result in more zero-emission travels soon.
Imagine if people had not only a monetary vacation budget but also calculated environmental and social footprints. People would travel by train and sailboats and they would stay longer at the destination making friends and take part in the community, being "temporary locals".
With flagship activities like the music festival, running events, and residence program on hold due to the coronavirus pandemic, how are you coping – adjusting your work?
This year, everything, all of a sudden has changed. The Covid-19 pandemic has really shown us that we should not take anything for granted.
The week before Norway closed down, we had a 'Workation Week' inviting people from all of Norway to bring their laptops and work remote from Træna. It was a great success. The next week, we all stopped travelling and were in complete lockdown.
Even though no infection had hit the island at that time, everything we planned had to be adjusted. Being a small island with limited capacity in dealing with a sudden infection spread, we realised that we are very vulnerable. This year is, therefore, totally compromised when it comes to events and festivals.
The music festival that normally attracts around 5000 people, is replaced with an alternative micro-festival for a maximum of 200 guests. The residence had to be put on hold, and a lot of activities had to adjust to digital solutions.
What we see this year is that tourists visit the island with a lot of respect and gratitude for being able to travel again. Another positive outcome is that more people appreciate and support local businesses, initiatives, and acknowledge that small communities should be able to live alongside bigger city districts.
Thank you, Moa.
Connect with Moa Björnson on LinkedIn and Facebook. Find out more about Tenk Træna on its website or visit the AIR Træna Residency program on Facebook.
---
Enjoyed our interview with Moa Björnson, on how even remote islands can successfully attract new, skilled talent to diversify their economy and to create new jobs and business opportunities? Thanks for sharing!